Visa Acquires Payment Startups: What Could It Mean for Crypto?
One of the high-profile deals in the financial market in January 2020 was the purchase of the Plaid fintech startup for $5.3 billion by the Visa payment system. 
A slew of rumors and speculations about the true motivation behind this purchase instantly spawned conspiracy theories. Some vigilant commentators even suggested that Visa intended to devour every fintech startup in order to protect itself from the competition. This sentiment was aptly summed up by Morgan Creek Digitial co-founder Anthony Pompiliano.
BREAKING: Visa just announced they are buying fintech Plaid for $5.3 billion.

Incumbent financial services companies are going to spend the next 3-5 years buying up various fintech startups.

If they don't, the startups will put them out of business.

— Pomp ? (@APompliano) January 13, 2020
We dived into the matter to understand whether this is the case and what possible consequences this may have for the fintech industry as a whole.
Visa Paid a Premium Price 
The deal was announced on January 14, and its completion is expected within 3-6 months after obtaining the necessary regulatory permits. According to Visa, the acquisition of Plaid will allow it to provide users with advanced payment options and related services for fintech developers.
"This acquisition is the natural evolution of Visa's 60-year journey from safely and securely connecting buyers and sellers to connecting consumers with digital financial services. The combination of Visa and Plaid will put us at the epicenter of the fintech world, expanding our total addressable market and accelerating our long-term revenue growth trajectory," said Al Kelly, CEO and chairman of Visa, in a press release.
A year ago Plaid was evaluated at $2.65 billion. But Visa paid a whopping $5.3 billion.
According to Visa's presentation, the acquisition of Plaid will help Visa add 80-100 basis points (less than 1%) to its revenue growth by 2021. 
Plaid Is Huge in the U.S.
Plaid is essentially a financial data aggregator that connects thousands of banks, financial services, and fintech companies to more than 200 million customer accounts. It aims to provide a streamlined and secure solution that links bank accounts to financial management applications. Plaid software allows reducing the previously lengthy verification process to only a few seconds.
According to Visa's presentation, 80% of the largest fintech applications in the USA are connected to the Plaid network. The company is partnered with more than 11,000 banks and financial services companies. Among them are the already mentioned Coinbase and Abra.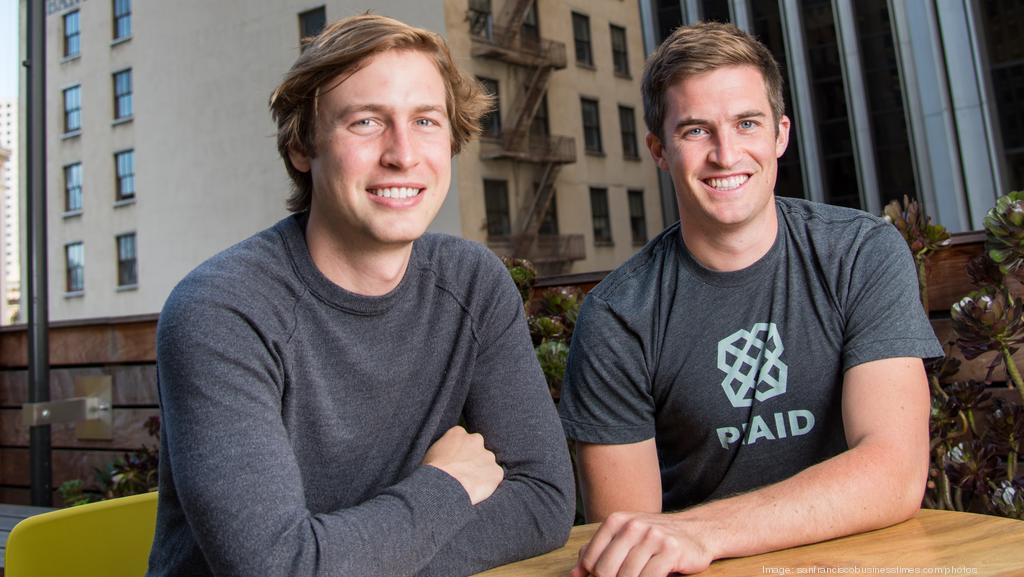 Plaid co-founders Zach Perret and William Hawkey. In 2015, they were featured in the Forbes 30 Under 30 ranking.
By the time of the deal with Visa, the company already achieved unicorn status, with venture capital investments of $310 million.
Curiously enough Visa was one of Plaid's early investors. Other notable organizations that have invested in Plaid include Andreessen Horowitz, American Express, Goldman Sachs, and Citi. Visa's direct competitor, MasterCard, also invested in the company.
What Are Visa and Mastercard Up To?
Plaid was not the first Visa's purchase in the field of fintech. In total Visa invested in almost 50 companies, including those working with cryptocurrencies.
In July 2019, together with Blockchain Capital, Visa spearheaded the $40 million Series B financing round for cryptocurrency custody services provider Anchorage. For Visa, this was the second time it invested in a cryptocurrency company. The first was the investment in the developer of blockchain solutions for the financial industry Chain in 2015. 
MasterCard had been moving on a parallel course. Back in March 2015, a report was published in which the term "cryptocurrencies" was used repeatedly and each time in the context of competition. In October of the same year, MasterCard joined the ranks of Digital Currency Group (DCG). DCG notably includes the investment company Grayscale Investments. The value of cryptocurrency assets under its management in 2019 reached almost $3 billion.
MasterCard is also active in obtaining patents in the field of cryptocurrencies and blockchain technology, among which patents for multicurrency blockchain system technologies and a method for accelerated processing of cryptocurrency transactions can be mentioned.
In February 2019 MasterCard together with Ripple and Barclays became an investor of the SendFriend payment startup offering a solution in the field of international money transfers using XRP tokens.
Last but not least, in 2019 both leading payment systems announced their participation in Facebook's digital currency project Libra, but, subsequently, they abandoned it, regulatory concerns being cited as the reason. 
At the same time, Visa spokesperson noted: 
"We will continue to evaluate and our ultimate decision will be determined by a number of factors, including the [Libra] Association's ability to fully satisfy all requisite regulatory expectations. Visa's continued interest in Libra stems from our belief that well-regulated blockchain-based networks could extend the value of secure digital payments to a greater number of people and places, particularly in emerging and developing markets." 
These Visa and MasterCard initiatives suggest that both companies are not only trying to find their place in the rapidly developing world of innovative financial services but also to maintain their status as the dominant forces in the market.
What does it mean for cryptocurrencies?
Some members of the crypto community almost immediately stated that such steps by Visa are aimed at eliminating potential competitors and are informed by the principle "if you can't stop something, become part of it."
You mean bought out by Visa. Visa will continue to buy any platform that may cut into their centralized and faulty market share of payment protocols. They can't buyout the only true decentralized freedom protocol == #Bitcoin

— CryptoDemps (@CrptoDemps) January 14, 2020
This sentiment was echoed by Trezor Wallet co-founder and, until recently, Casa Strategic Development Director Alena Vranova. In an exclusive comment to ForkLog, she said:
"I'd say Visa doesn't want to miss the blockchain train (whatever they think it is), but don't want to carry the risk of development. So after backing off from Libra facing strong push back from the US Senate, they seem to go for a smoother sail with Plaid. Or, in fact, it could be just a neutralization game."
A similar point of view was expressed by Ripple CEO Brad Garlinghouse:
Not surprising to see this kind of consolidation, and expect this will set the stage for more to come in 2020 – in fintech, crypto and beyond. https://t.co/SMVNxZd1br

— Brad Garlinghouse (@bgarlinghouse) January 14, 2020
A more conservative view is held by Chris Thomas, a fintech investor, and partner at Black House Private Equity. In an exclusive comment to ForkLog he said:
"It's simply about expanding their ecosystem and gaining access to other clients who they can't normally get. I don't think they'll be able to control crypto by acquiring… but they can certainly learn and try to innovate – although this is a tough thing to do for an incumbent."
This view is favored by the companies themselves. As Plaid works with the majority of fintech apps popular in the US, by acquiring it Visa gets access to a huge base of customers.
"Plaid is a leader in the fast-growing fintech world with best-in-class capabilities and talent. The acquisition, combined with our many fintech efforts already underway, will position Visa to deliver even more value for developers, financial institutions and consumers," said Al Kelly, CEO and chairman of Visa.
On the other hand, Visa is a huge global network, which may help Plaid quickly and efficiently access new markets around the globe.  
"Visa is trusted by billions of consumers, businesses and financial institutions as a key part of the financial ecosystem, and together Visa and Plaid can support the rapid growth of digital financial services," said Zach Perret, CEO, and co-founder of Plaid. 
What You Can't Build, You Can Buy
Visa made it crystal clear that its ambitions in the fintech sector are very high. In the aforementioned presentation, the company identified key growth areas (banking and investment, lending, consumer payments, financial management, and business services), and also indicated a high potential for expansion in international markets, where the number of fintech apps users is 15 times greater than in the US.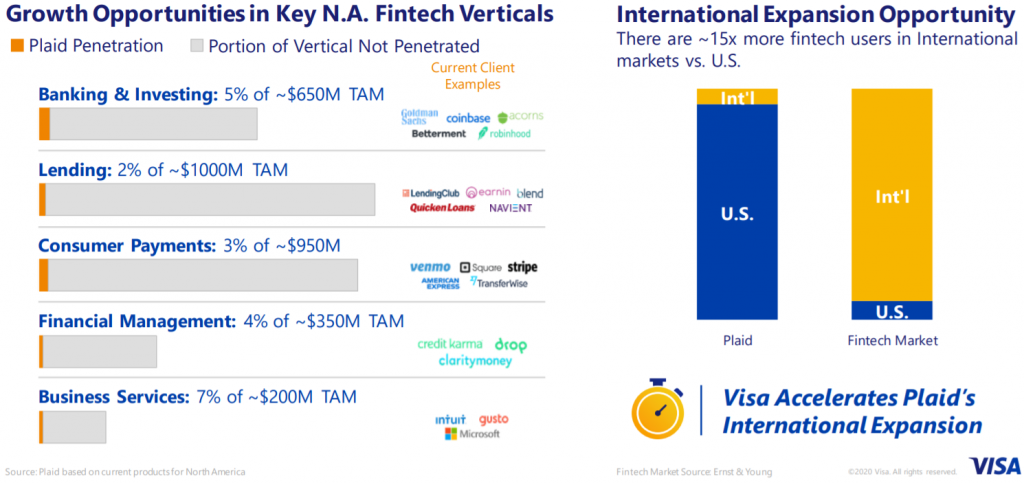 Plaid growth opportunities. Source: Visa
The fact that the payment services market needs drastic changes is confirmed by such giants as Visa and MasterCard paying very close attention to innovation in the fintech sector. Whether Visa's motifs behind these purchases are smothering the competition, chasing opportunities, or a bit of both, it is now obvious that the trend will continue.
Written by Andrew Asmakov
Follow us on Twitter and Facebook and join our Telegram channel to know what's up with crypto and why it's important.
Found a typo? Highlight text and press CTRL+ENTER
Subscribe to our Newsletter

<