The Watchful Eye of Chainalysis: How Bitcoins Get Dirty and How It May Affect You
If anything is perceived as valuable, there is always someone who seeks to illegally obtain it, be it money, art, or luxury items. In recent years, this list embraced cryptocurrencies as well: to some, they have become a coveted prize that opens a fast track to wealth. And there are lots of ways to seize someone else's bitcoins: exchange hacks, ransomware, and phishing, to name only a few.
Still, every action finds a counteraction, so it's only reasonable that this criminal activity faces attempts to tackle it. Physical protection of infrastructure is not enough, though: the open nature of bitcoin and other cryptocurrencies enables one to trace their movement and, if they really want to, identify the person behind a given transaction.
It seems that the emergence of specialized software for making the process more efficient was only a matter of time. These days, there are several companies offering those solutions with Elliptic, CipherTrace, Crystal Clear, BitFury, and Chainalysis being the most renowned of them. The latter has made it twice to the Forbes Top 50 fintech companies lists in 2018 and 2020. It is a recognized leader in this niche.
What Does Chainalysis Do?
According to Crunchbase, Chainalysis raised over $50 million of investment. It closely cooperates with law enforcement agencies, including FBI, DEA, and ICE, and major crypto exchanges like Binance, Bittrex, Bitfinex, and Paxful. The company's tools for tracing suspicious transactions have been used in international police operations.
In 2018, the Dutch police have revealed they used Chainalysis's tools to crack down on Hansa, one of the biggest darknet marketplaces at the time, and arrest its operators involved in drug trafficking.
In 2017, Jonathan Levin, co-founder and COO of Chainalysis, claimed during a House hearing that the company had located the 650,000 BTC from Mt.Gox. Security specialists WizSec link Alexander Vinnik, who is suspected of laundering $4 billion at BTC-e, to stealing those coins. He himself was identified with the use of Chainalysis tools.
Last year, Levin told Laura Shin, host of Unchained podcast, that it had been the collapse of Mt.Gox that gave him the original idea of creating Chainalysis. Today, after five and a half years of operation, the company is one of the most important players in the crypto-industry. Exchanges still get hacked, and assets still get stolen. Chainalysis's software often helps law enforcement or exchange administrators recover the funds or track down the culprits.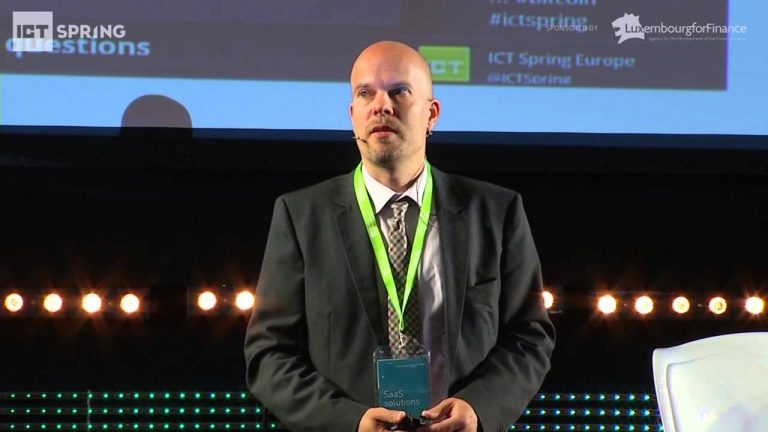 Michael Gronager, Chainalysis CEO. Source: ICT Spring Europe
Chainalysis has worked closely with major financial institutions ever since it graduated from Barclays' fintech accelerator. These days, Barclays is one of its most notable customers. According to Gronager, it was the participation in the accelerator that helped the company understand what concerned the financial industry when it came to cryptocurrencies.
"Forming relationships with the people at Barclays let us understand what banks need in order to feel confident operating in the cryptocurrency market. We wouldn't have that access without the Barclays Accelerator Programme – and they wouldn't be able to operate in the Cryptocurrency market without knowing how to prevent crypto-money laundering," Gronager says.
Why Chainalysis Takes the Heat From the Crypto Community
The proponents of crypto, however, are often not too happy about what Chainalysis does, especially the so-called bitcoin maximalists. While the software is indeed helpful in research or tracing stolen funds, they say, Chainalysis and their likes go against the very spirit of Bitcoin by marking certain coins as dirty if they had been involved in transactions that Chainalysis deems suspicious.
Others argue that governments can use such solutions way beyond their fight with criminal activity to suffocate privacy or persecute dissidents, especially in countries with authoritarian regimes.
Jonathan Levin attempted to get those doubts cleared in his recent interview with Peter McCormack, the host of What Bitcoin Did podcast.
"Bitcoin can be used for good and bad. I don't want North Korea building nuclear weapons because of cryptocurrencies," he said commenting Chainalysis's claims that North Korea has accumulated $1.5 billion worth of cryptocurrency to circumvent international sanctions.
Levin, however, was at some pains answering the host's question of whether he would feel comfortable knowing the government traces every single cash transaction. That was not surprising, though, considering McCormack dubbed Chainalysis the enemy of freedom a few months ago.
Not everyone agreed with that.
Although we are a privacy coin, companies like Chainlysis are filling a demand, and if it wasn't them, it would be someone else.

It's up to projects like us to make it as difficult as possible.

The enemy of Bitcoin is its lack of privacy not blockchain analysis firms.

— Zcoin (@zcoinofficial) September 21, 2019
And in many countries, including Singapore, prostitution is a regulated activity. Countries where it is banned, it still happens anyway except through bribes and corruption. Blockchain analysis is neither a crime nor can it be easily stopped due to blockchain's open nature.

— Zcoin (@zcoinofficial) September 21, 2019
The point is that you can't claim to have an open decentralized ledger and hate on companies that use this data. A better approach is to find real solutions to the problem which means more robust privacy mechanisms to increase the cost of analysis.

— Zcoin (@zcoinofficial) September 21, 2019
How to Avoid Surveillance in Bitcoin
Chainalysis is very strict about keeping their technology under wraps. Still, any technology has its weak points—or at least that's what one can suggest after reading an AMA session on Reddit by an anonymous Chainalysis employee.
Twelve hours later, for whatever reason, all comments under the original entry were deleted. They are still available in web archives, though.
In any case, those answers paint an interesting picture of Chainalysis's inner workings. Thus, when asked about Coinjoin and the wallets that use the tech (Wasabi and Samourai), the Chainalysis employee said:
"I personally love it. The company management hates it, of course. Things like that destroy the need for our/their software. It can make the software completely irrelevant."
According to him, even regular private coins can successfully withstand Chainalysis's tools. With anonymization techniques on top of that, the company's efforts seem downright futile.
"I would say Wasabi is enemy number one. There is no way to de-anonymize it, and I don't see how the government can legally take Wasabi down, so it will probably persist. Put it this way, if everyone used Wassabi, Chainalysis would go out of business," the anonymous topic starter added.
He also noted that running your own node and an electrum server is another great way to go below Chainalysis's radars without disclosing your IP.
The deleted AMA also revealed that Chainalysis runs its own Electrum nodes. At one point the company is believed to have run about 10% of all Bitcoin nodes. The anon, however, refuted the rumors suggesting that the company uses so-called dusting attacks on the addresses for tracking purposes. A dusting attack is a kind of attack when someone sends a small number of coins to the wallet of interest and then tracks its activity in order to find out who uses it. The topic starter said that those actions would be useless as it would not improve the quality of tracking.
Cryptocurrencies going out of mixers are marked as highly risky, just as the coins that had been involved in darknet transactions. For greater anonymity, it was recommended to use Monero in combination with VPN and Tor, and not to trust mobile wallets too much.
Whether Chainalysis is indeed an enemy of freedom, or, on the contrary, they make cryptocurrencies more acceptable to financial regulators and the general public is a question without a single answer. Quite possibly, they do both. Everything depends on your own political stance in this regard.
What is clear, however, is that caring about your privacy is of paramount importance in the days when personal information becomes a valuable asset for governments and criminals alike.
Written by Andrew Asmakov
Edited by Jenny Aysgarth
Follow us on Twitter and Facebook and join our Telegram channel to know what's up with crypto and why it's important.
Found a typo? Highlight text and press CTRL+ENTER
Subscribe to our Newsletter

<