Justin Sun's Secret Projects, or What Lies Beneath Tron Founder's Empire
From the moment of its inception, the Tron platform and its founder Justin Sun have garnered significant attention from news media within the crypto-industry. There are perfectly legitimate reasons for this, such as important technological releases or major acquisitions. There is also an abundance of much more controversial news hooks, surrounding the person of this Chinese entrepreneur.
Even if Justin Sun himself does not yet comment on this, there may be something of greater importance behind the recent acquisitions of technology startups worth millions of dollars than it may seem at first glance. A more careful analysis of the business empire Sun is building spawns some quite interesting theories.
The latest significant news from the creator of Tron, other than buying a stake in the Poloniex exchange in November 2019, was the announcement of a new decentralized stablecoin backed with TRX and BTT tokens, which will presumably become a key part of a new "secret" project involving BitTorrent and DLive platforms. While BitTorrent joined the Tron ecosystem back in 2018, the DLive blockchain content sharing platform was the last major acquisition of Tron—the statement was made at the end of December 2019.
Along with EOS, Tron is considered to be one of Ethereum's main competitors. In 2019 Tron-based decentralized applications totaled almost a million active users according to DappReview. While this is half as much as Ethereum has, if Justin Sun's plans for a project involving BitTorrent and DLive are implemented, and there will be at least the expected 100 million new users, the market may change significantly. And not only for the TRX token.
Justin Sun himself, in his characteristic flamboyant manner, regularly whips up this intrigue on social media. On Twitter alone, he has over 2 million subscribers. Ignoring for the time being concerns about the authenticity of Justin's subscribers (a number of sources claim that over half of his followers may be fake), this is, in either case, a very impressive audience.
So what are Justin Sun's goals? Not much can be said for sure, but judging by the infrastructure being created, it cannot be ruled out that his ambitions may extend to creating his own version of native Internet money, which giants such as Facebook and Telegram are currently working on.
As we know, they have encountered unrelenting opposition from the authorities. But while Facebook and Telegram can be safely defined as "heavyweights", each their step being very closely scrutinized, the same can not be said about Tron even if its user base exceeds 100 million people. Could that be a part of San's plan? Eschew attracting increased regulatory attention, launch the online money and hope that the snowball will gain enough momentum to be impossible to stop.
Who is Mr. Sun? 
Justin Sun was born on July 10, 1990, in the Chinese province of Shandong. His parents made sure that he was able to attend prestigious educational institutions. From 2007 to 2011, Sun studied at Beijing University, receiving a bachelor of arts degree in history. Coincidentally, Jihan Wu, the founder of Bitmain, the largest manufacturer of mining equipment, also studied at Beijing University.
From 2009 to 2010 Justin Sun also studied humanities at the Chinese University of Hong Kong, and from 2011 to 2013 he studied at the University of Pennsylvania in the USA, receiving a master's degree in political economy. In 2018, he entered Hupan University, founded by Alibaba co-founder Jack Ma to help entrepreneurs and business owners master the basic skills necessary for successfully operating on the Chinese market.
"Hupan University made a huge impact and difference to me and the company. Without Hupan, Tron will not be what it is today. My entrepreneurship was enlightened and developed there," said Sun in April 2019, as he donated $1,5 million to the University.
Tron's creator is believed to be Jack Ma's protege and the photo with the founder of Alibaba takes a special spot on Sun's Instagram.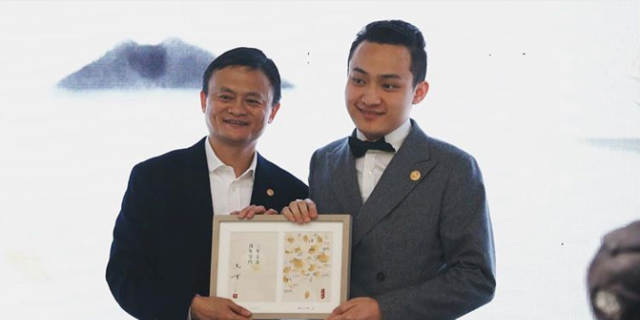 According to Sun, he began investing in cryptocurrencies back in 2012, when he acquired his first Bitcoins. His interest in new technologies and his business acumen led him to Ripple Labs in 2013. For three years, Justin Sun worked as the representative of the California-based fintech company in China.
Also in 2013, having previously secured funding from several well-known venture funds, he created the Peiwo application, which quickly became the largest voice messaging software in China. Many years later, in February 2018, Peiwo added support for the TRON cryptocurrency, so millions of the app's users got the opportunity to monetize their activity on the network.
In 2016, Sun left Ripple Labs to focus on developing his own decentralized application platform, which later became known as Tron. By the time the Tron Foundation, the company behind the project, was created, Sun had been on Forbes China's "30 Under 30" lists for three consecutive years.
Tron Platform
Tron, or "Las Vegas on the blockchain," as it was aptly dubbed in the aforementioned DappReview analytics report, has been announced as an open-source protocol designed to create a decentralized ecosystem of entertainment apps and content. Users would be rewarded in the project's native cryptocurrency, Tronix (TRX), for uploading or selling content on the network and the platform itself was supposed to be compatible with blockchains and smart contracts of other projects.
Tron's crowdfunding campaign lasted only three days (from August 31 to September 2, 2017) and easily reached the goal of $70 million, selling 40% of the estimated issue of TRX tokens (100 billion). This almost coincided with the ban on ICOs introduced in China, after which many cryptocurrency companies moved to other countries. In Tron's case, it turned out to be the United States. Since then, the project has been managed from the city of San Francisco.
Initially, the platform employed Ethereum's ERC-20 tokens, starting the migration to the main network of its own blockchain on May 31, 2018. Unlike Ethereum, where, according to Justin Sun, "miners were fighting with developers," Tron used a consensus algorithm based on Delegated Proof of Stake, where the functions of coin holders with voting rights and of transaction validators were separated.
Since Tron started based off Ethereum and followed its development path, the virtual machine (TVM), smart contracts and TRON token standards are compatible with Ethereum, which greatly simplifies the migration of projects between these blockchains. Moreover, Tron is quite aggressive in its niche within the cryptocurrency market, luring developers of competing projects to "save them from the collapse", as Sun himself once said.
Accusations of Plagiarism
From the very start, the project ran into fierce criticism, being accused of numerous instances of plagiarism in its white paper. Among others, in January 2018 such accusations were levied by representatives of Protocol Labs, the company behind the development of the Filecoin project.
Juan Bennett, the Protocol Labs CEO, said that almost the entire Tron whitepaper was copy-pasted from elsewhere without a single link to other projects, including IPFS, and that no meaningful response was received from the authors of the document.
Wow! Absurd! TRON's "paper" is mostly copied from other projects, or is super basic p2p passed off as original. Zero references.

Archived that PDF in IPFS, in case they take it down: https://t.co/jv7EuSYenL pic.twitter.com/GbiL7MUrnc

— Juan Benet (@juanbenet) January 7, 2018
In fairness, Tron's whitepaper was not a verbatim copy, but its content, vocabulary, and general structure were indeed very similar to the documents that had previously been written in Protocol Labs. For example, it described the Bitswap strategy in a very similar fashion to the IPFS document, and experts also drew attention to the similarity of the equations and formulas used.
Justin Sun tried to answer the questions posed by the community but was perhaps not sufficiently convincing.
Our original version of the whitepaper is in Chinese and we have a very detailed reference to the latest Chinese version. The English, Korea, Japanese and Spanish versions are translated by the volunteers. The translation missed numerous important details not just reference.

— Justin Sun (@justinsuntron) January 8, 2018
A few months later, Vitalik Buterin unearthed this story again. This happened shortly before the launch of Tron's mainnet when Sun listed the seven main advantages of his platform over Ethereum. Buterin responded by suggesting the eighth "advantage":
8. Better white paper writing capability (Ctrl+C + Ctrl+V much higher efficiency than keyboard typing new content)

— vitalik.eth (@VitalikButerin) April 6, 2018
BitTorrent Acquisition
In the summer of 2018, almost simultaneously with the launch of Tron's mainnet, the Tron Foundation purchased BitTorrent, the operator of the popular uTorrent client, claiming that this can be considered the beginning of the creation of a decentralized Internet of the future.
"With the integration of BitTorrent, TRON aims to liberate the Internet from the stranglehold of large corporations, give data rights back to the individual, and reignite the early 21st-century vision of a free, transparent, decentralized network to connect the world, because the internet belongs to the people," said Justin Sun in a letter to the community.
The plans to create a BTT token were also announced at the time. According to San, it would finally usher the massive adoption of blockchain technology. It was originally thought that it would be used to reward users for distributing files on the BitTorrent and µTorrent torrent trackers, but the latest news hint that its scope will most likely be wider.
Still, many skeptics wondered why they needed another "shitcoin without any practical value", given that BitTorrent had worked pretty well without any such innovations.
In January 2019, commenting on Justin San's plans, former BitTorrent Chief Strategy Officer Simon Morris said that he had no idea how the Tron blockchain would cope with the volume of transactions needed to tokenize the platform.
"It's basically a marketing machine layered on a very thin veneer of technology," he said. 
Morris also commented on Justin Sun's personality, as they had met on numerous occasions in the negotiation process and grew to know each other well. 
"It's very clear that Justin is very strong at marketing. He has a very nice personality from a marketing point of view. He doesn't have a technical bone in his body. He wouldn't understand, technically, anything. But the approach that bothered me was, the very sort of Trumpian approach—if you get caught in a lie, the answer is you double down on the lie. [It was] the endless doubling down on lies that made me think it wasn't going to be a fit," said Morris, who quit BitTorrent shortly after it was bought by Tron Foundation.
In either case, the next goal was set and successfully reached: on January 28, 2019, the BitTorrent crowdsale was held on the Binance Launchpad platform. Accompanied by hype overload and a slew of technical problems, the campaign ended in less than 18 minutes. As a result, 59.4 billion BTT tokens were sold for a total of about $7.2 million.
The BTT token itself was created on the basis of the TRC-10 standard, but it is also compatible with ERC-20. The total issuance was 990 billion BTT.
Media Scandals and Scam Allegations
Justin Sun always stayed committed to aggressive marketing strategies, which would often lead to high-profile media scandals. For example, in March 2019 he promised to airdrop $20 million and a Tesla among his Twitter subscribers, but instead, the winner only received a ticket to the upcoming niTROn Summit in Seoul.
To celebrate #BTT & #USDT–#TRON success, I am planning a $20m free cash airdrop. Good news-it's coming, bad news-I may decide to give away more! First, I will randomly pick 1 winner for a #Tesla up until 3/27! To apply, follow me and RT this tweet! Simple! #Blockchain pic.twitter.com/wFyzwtB3ur

— Justin Sun (@justinsuntron) March 12, 2019
Shortly afterward, Justin Sun solemnly announced the partnership with the English football club Liverpool.
Thank you for the unique and innovative invitation, Liverpool! I am impressed and I'm looking forward to exploring this #TRON new partnership together! @LFC #TRX $TRX #BTT $BTT ?? pic.twitter.com/7RhFw7QVbX

— Justin Sun (@justinsuntron) April 24, 2019
In theory, such a partnership could very well have taken place, but Liverpool representatives quickly refuted the news, claiming to know nothing about such plans.
Another story that made a lot of fuss last summer was Sun's failed lunch with billionaire Warren Buffett. Sun paid a record-setting $4,567,888 at a charity auction for an annual traditional dinner with the legendary investor. Circle CEO Jeremy Allair, Litecoin creator Charlie Lee, head of the eToro investment platform Yoni Assiya and representative of the Huobi exchange Chris Lee agreed to accompany him, but two days prior to the lunch, the Tron Foundation unexpectedly announced that it has to be rescheduled.
Sun's health problems were cited as the official reason, although several Chinese media claimed that the founder of Tron was under investigation and could not leave China. There were also rumors that since November 2018, Sun allegedly has been hiding from the Chinese authorities. Sun strongly denied them. In September Sun promised to soon name a new date for lunch with Buffett, but so far this has not happened.
It is also interesting that health issues did not stop Sun from attending a Tron Foundation party in San Francisco on the day of his lunch with Buffett and even retweeting a photo taken by one of the event participants.
The king is back @justinsuntron @Tronfoundation pic.twitter.com/Y28f4Jp9jR

— Roy Liu (@roylxy) July 26, 2019
While all these media scandals can be considered to be extravagant PR stunts, the accusations of the involvement with obviously fraudulent schemes are a much more serious issue.
Last summer, Justin Sun was harshly criticized for failing to respond on time to the activities of the Chinese Wave Field Super Community investment scheme. Its organizers pretended to represent Tron, copying the Chinese name of the platform. The Ponzi scheme lasted for about six months, garnering about $29 million from gullible investors. 
All this time, the real Tron representatives did not comment on this scheme in any way, until a critical point arrived and the defrauded investors began to take active steps. There were also some misunderstandings: on July 8, 2019, protesters tried to break into the Raybo (Tron's partner) research center in Beijing, believing that they might find information pertaining to the fate of their investments there. The Tron platform itself was also accused of fraud.
"The victims had been promised high rates of return on their investments in the name of TRON, BitTorrent and uTorrent. TRON officials expressed their sympathy and understanding for those who had been deceived, however, the company strongly condemns acts of violence that may be perpetrated as a result of events that are not in its direct control,"  the company wrote.
Justin Sun himself commented on these developments:
"The very heart of TRON's mission is to promote a fair and open internet that does not stifle discussion and dissent, however, I also believe there's a heightened responsibility from those disseminating news to be fair AND accurate. The twisting of events did nothing to help people who in some cases saw their life savings wiped out, while it hurt investors in the TRON community who saw the value of their holdings decline on fake news."
At the end of 2019, Justin Sun publicly supported the launch of the Just.Game decentralized application, which in many ways resembled a Ponzi scheme.
The dapp was basically a game in which you had to send TRX tokens to a smart contract and then publish the referral link on social networks. Users were rewarded for promoting the game. In the very first hours after launch, 500 million TRX were sent to the contract. Sun himself not only commented on this on his Twitter but also published his own referral link.
Users who watched Sun's live stream as he played the game claimed that he invested 125 million TRX in it. Sun later deleted all tweets where Just.Game was mentioned.
Where Is Tron Heading?
The criticism expressed against the project and its founder is often justified. Much of it comes from hardcore Bitcoin maximalists who are convinced that sooner or later Justin Sun and the Tron Foundation will find themselves in the warm embrace of the U.S. Securities and Exchange Commission (SEC) or other financial regulators. At the same time, despite the controversial personality of the Chinese entrepreneur and the particularities of his business promotion strategies, most community members agree that he never actually broke any laws.
It would probably pay to be more objective and take a closer look at the technology and its potential, especially since it is still nascent. Tron's roadmap schedules milestones until 2025 and includes several key stages. Currently, the project is at the second stage of Odyssey, which is dedicated to building a community of content creators.

The third and fourth stages (Great Voyage and Apollo) will be about the launch of custom tokens and private ICOs. The fifth phase (Star Trek) will begin with the launch of a decentralized platform for games and market predictions. The final phase (Eternity) will address the issues of fundraising and monetization of projects on the platform.
It is also worth noting that the project pays considerable attention to the overall security of the platform. This is also confirmed by the fact that in 2018 the Tron Foundation enlisted the services of a highly sought-after security engineer Jorge Guo, who in the past received numerous accolades from companies such as Google, Huawei, and Qualcomm.
The seriousness of Tron's intentions is also indicated by its willingness to invest in blockchain game developers. At the end of 2018, the special $100-million fund TRON Arcade was launched for this purpose.
That being said, the main question that still persists is whether Justin Sun would attempt to create native Internet money. The possible cooperation of the Tron Foundation with the already mentioned Jack Ma from Alibaba cannot be completely ruled out as well. Such a move would be huge for the whole market and, having a positive impact on the price of TRX, would create great opportunities for creating new projects … and probably for possible manipulations.
There is no definite answer to these questions, and right now we can only keep monitoring the developments.
Written by Andrew Asmakov
Follow us on Twitter and Facebook and join our Telegram channel to know what's up with crypto and why it's important.
Found a typo? Highlight text and press CTRL+ENTER
Subscribe to our Newsletter

<