IEO Declared Dead, but Don't Be Too Quick to Bury It
The Block's analyst Larry Cermak declared Initial Exchange Offerings dead, pointing out the concept's bleak statistics for 2019. 
IEOs are still dwarfed by the sums collected via ICOs back in the day. The entirety of the funds collected via IEOs over the only active period in the first half of 2019, which is estimated to be around $1.5–1.6 billion, is smaller than just one single ICO worth $4 billion. Nevertheless, the model was expected to become the new go-to means of funding, which doesn't involve conceptual death. How come?
Just last year, the PWC's 5th ICO/STO Report noted that the development of the IEO model "has been strongly accelerating in terms of completed offerings and funding volume." According to the paper, in the first five months of 2019, companies raised over $1.5 billion, although two-thirds of the total came from Bitfinex's fundraising campaign.
The uptrend didn't last, as Mr. Cermak's research suggests.
IEOs are dead. There appears to be a clear relationship between the return and the number of days since the IEO. The average return of IEOs approaches 0% in 200 days. In other words, nearly no one wants to hold IEOs long term. pic.twitter.com/1qX5W1VSlv

— Larry Cermak (@lawmaster) January 27, 2020
Cermak's analysis of IEO campaigns on several major crypto-exchanges has shown that only Binance had a positive return on investment. All others had substantial losses.
Binance is now the only exchange with a positive average return. All other exchanges are deep in the negatives. Bittrex being by far the worst pic.twitter.com/Xtf45V6efk

— Larry Cermak (@lawmaster) January 27, 2020
Cermak also posted information about average returns for particular campaigns. Unsurprisingly, the numbers are predominantly negative. Only 4 projects in the provided data snapshot show positive returns against USD price.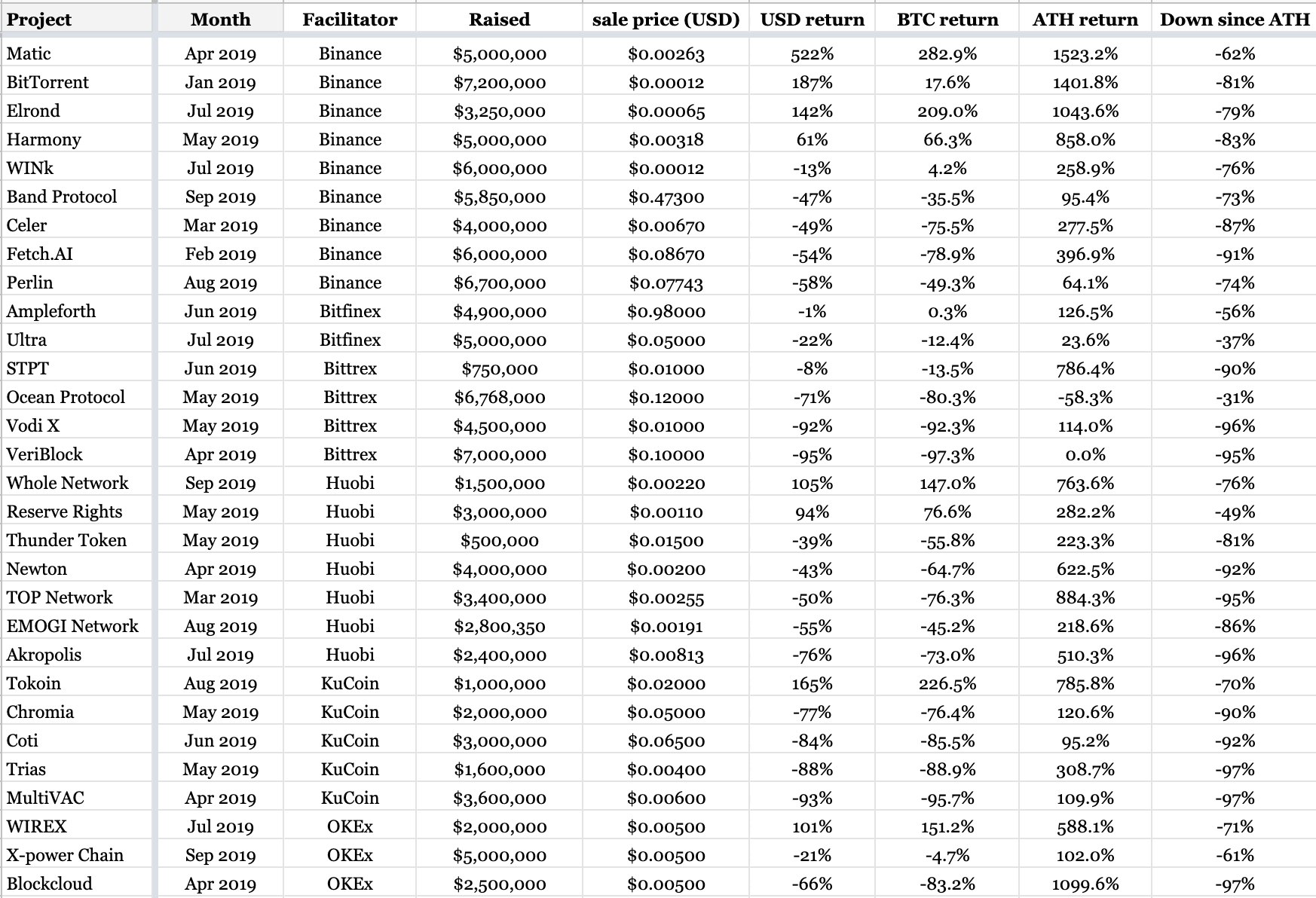 The analyst argues that the data provided are likely a sign of the concept's death.
Nonetheless, it might be a little too soon to put the IEO concept into the grave. 
forklog.media reached out to Alexander Temerev, CEO of Reactivity, and Pavlo Skoroplyas, author, cryptographer, crypto-trader, and miner for an expert opinion on the matter. Here's their take on the problem.
Is IEO Dead Yet?
Both experts believe that declaring IEOs dead might be a bit premature.
Pavlo Skoroplyas noted that the downtrend in investment returns can be explained by the prevalence of short-term investors. 
"For developers, the goal of their project's IEO is to get the money to fund further development. They aren't speculants to maintain the token price after they get the funds. Return metric declines because only a small fraction of investors go long-term. Most people just buy tokens, wait for a pump, then sell them and forget about it."
He also suggested that the case with IEO can be compared to investing in public companies' shares. 
Source: TradingView
"Look at Apple Inc (AAPL) chart. There was a drop, then a small pump, then the price went flat for a few years. The growth began later, when long-term investors began stepping in," Pavel noted. 
Mr. Skoroplyas concluded that the IEO model is achieving its goals. Exchanges only allow credible projects to launch IEOs, which leads to less scam in the industry. He believes that not getting steady returns in the first two years is as normal with IEOs, as it is with stocks.
Mr. Temerev argued that IEO is not the final stop in the crypto-investment evolution.
"IEO is but a phase, an intermediate solution. It just gives away verification and red tape to exchanges. So far, it does not look like a mature market. And even though the share of substantial projects is now higher than in the days of the ICO scam boom, raising money and seeing how it goes from there remains a very popular business model nowadays. Anyway, they at least try to look better now."
Speaking about the possibility of a stricter regulatory framework finally structuring the market, he said:
"The civilization is not necessarily brought to the market by regulators. The sources may vary dramatically. What would they be, depends on the economic model that prevails and that a particular expert believes in. Neo-Keynesians, for example, would expect the order to come from regulators. Austrian proponents are likely to hope for the crypto-industry to settle things without any external involvement. But in any case, it would take time. And right now, it's definitely too early to say anything for certain."
Conclusion
From the looks of it, IEOs are not really dead right now, and some projects may enjoy the model's advantages over an ICO.
Nonetheless, the demise of IEOs seems inevitable and is only a matter of time. We're all mortal, after all, and it seems that crowdsourcing models are too. But, whatever replaces IEOs in the end, would not necessarily be the final evolutionary phase of crypto-crowdsourcing models.
Follow us on Twitter and Facebook and join our Telegram channel to know what's up with crypto and why it's important.
Found a typo? Highlight text and press CTRL+ENTER
Subscribe to our Newsletter

<