From Dublin With Love: the Strange Case of Bitsane's Disappearance With Millions of Euros
In mid-July 2019, the website of the Irish bitcoin exchange Bitsane launched in late 2016 suddenly became empty, all social media accounts were deleted, and the assets of almost 250 thousand users disappeared along with the team. The administration bravely ran away.
Exit scams are unfortunately somewhat commonplace in the crypto industry, however, this case is different. As it turns out, the Dublin-based exchange's activity can be tracked to Eastern Europe. And to very certain people that didn't do a very good job covering their tracks.
So, who is behind the case of the mysteriously disappearing crypto-exchange? Let's find out.
One Exchange, Two Companies. What's the Deal?
Bitsane LP was incorporated on 29 June 2016 at Fitzwilliam Road Lower in Dublin, at a business center named Clifton House (office #29). According to the articles of incorporation, the company was registered by Aidas Rupsis (probably a Lithuanian citizen) who, according to his LinkedIn profile, had been the exchange's CEO up until it disappeared.
His name is also associated with Gronem Tradint Limited (most likely, a misspelled Gronem Trading Limited), which is a Hong Kong-based company whose CEO and only shareholder is a Belarusian citizen Yauheni Audzitouski residing in the Belarussian city of Grodno. Notably, his last name is Latvian.
[those data were initially published here]
According to online archives, Bitsane.com indeed listed Bitsane LP as the operator in 2016 and early 2017. However, the saved version of the website dated September 2017 has no mention of it. Instead, it lists Bitsane Limited as the owner and operator. A liquidation claim for said company was filed upon the decision of its CEO Maxim Zmitrovich in May 2019. The company is officially dissolved as of 8 October 2019.
Mr. Zmitrovich also lives in Grodno. He is the CEO of cryptocurrency project Azbit that had been widely advertised by Roger Ver, who hardly needs any introduction. When Bitsane users discovered that their funds were missing along with the exchange itself, they immediately suspected that Mr. Zmitrovich had been somehow involved in the scheme.
Azbit tried to clear the air in their Medium post on 13 June 2019. In particular, they claimed that:
Azbit hired the Bitsane developers (employees of Bitsane LP) to create the code base for its own trading platform. 

The developers insisted on establishing Bitsane Limited that would own their intellectual property (the code). Their agreement stated that they shall be deemed founders, however, Mr. Zmitrovich will be the CEO.

Bitsane Limited was not involved in any economic or trading activity.

In April 2019, Bitsane LP stopped responding Azbit, and the project broke with them.
Still, from at least September 2017 to 30 May 2019 Bitsane listed Bitsane Limited as the operator. The company itself was incorporated on 10 August 2017 in London. Its chartered activities included:
Activities of venture and development capital companies

.

Administration of financial markets.

Financial intermediation not elsewhere classified.

Security dealing on own account.
This list looks suspicious considering Mr. Zmitrovich's statement that the company was supposed to own intellectual property and nothing else. The list, however, suggests that the legal person was to manage a trading platform.
In fairness, Bitsane Limited's statement as of 31 August 2018 suggests that the company was exempt from mandatory audit because of the lack of active business operation.
Notably, Azbit became known to the general public at Consensus 2018 in New York. The video below shows Maxim Zmitrovich, then COO, explaining that the project will hold an ICO, and that a portion of the raised funds will be used to license electronic payments ($10 million) and to obtain a banking license ($30 million). He added that they were involved in similar projects in the past.
Meanwhile, Azbit's roadmap claims that in Q1 2017 the company was licensed as a payment operator in the Czech Republic. The newer version replaced the Czech Republic with the EU.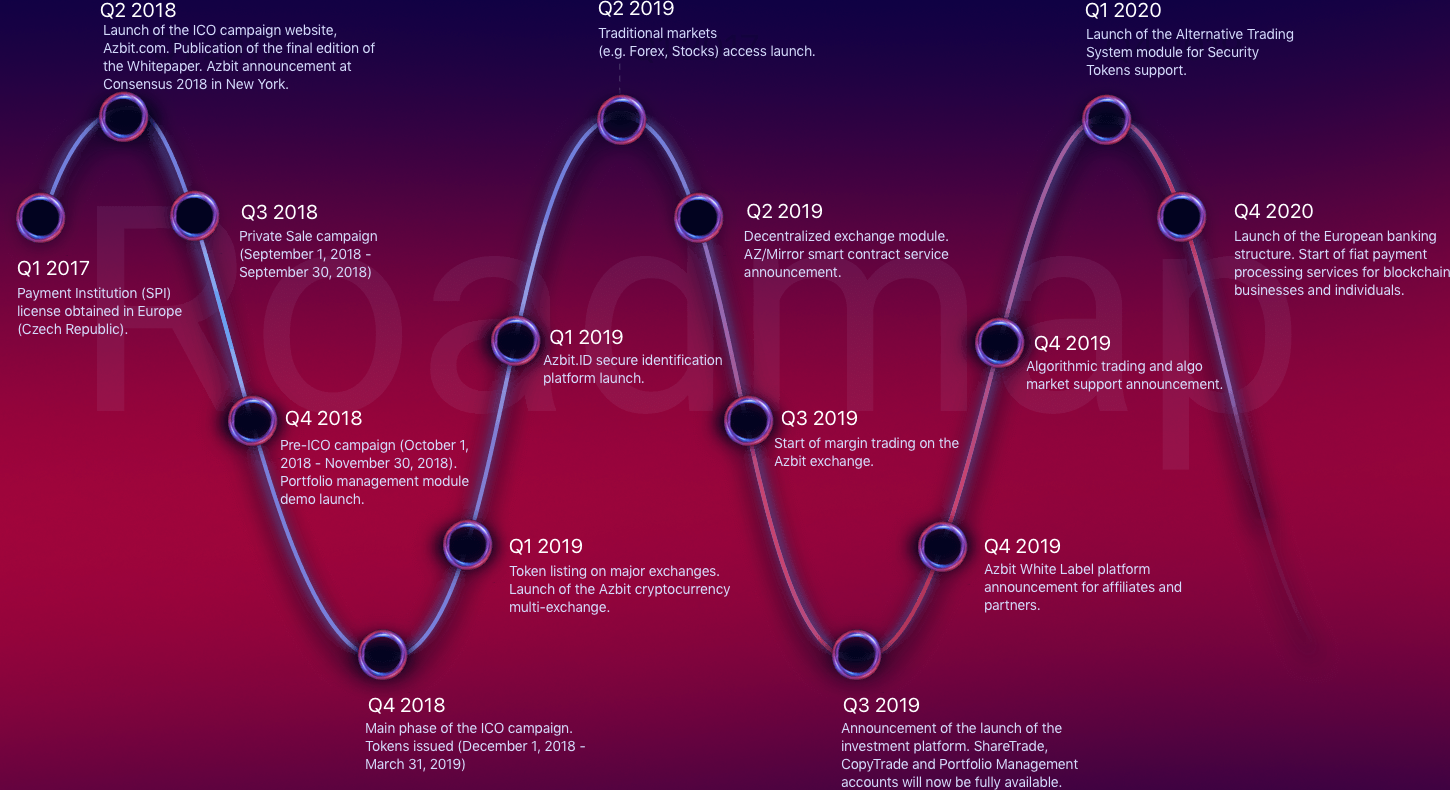 Still, the web archive suggests that for the most of 2017 the website Azbit.com had no owner whatsoever. Azbit AG, that the website lists, came into being only on 31 July 2018 after the introduction of amendments into the charter of Cleverty AG, a company focusing on, and it's not a joke, selling household appliances. The Estonian company Azbit.com OÜ, affiliated with Azbit AG, was incorporated a bit earlier, on 20 February 2018.
Most importantly, if one compares the members of the top management at Azbit and Bitsane, it becomes obvious that the projects are at least somehow connected.
Too Many People, Too Few Companies. What's the Deal?
According to LinkedIn, seven people have named Bitsane exchange as their employer. At the time of writing, three of them are not available anymore. The four remaining are the CEO Aidas Rupsis, the CFO Roman Syroyezhko (allegedly residing in Poland), the support service manager Anastasia Borenko (the last name either is fake or has been changed, but she lives in Odessa, Ukraine), and the developer Gennadi Nikitin (also Odessa).
One of three unavailable accounts belonged to the CTO Dmitri Prudnikov, who deleted it right after the exit scam. Some Bitsane users believe it was him who had stolen the funds. However, they admit there was a group conspiracy within the top management as well. ForkLog's sources suggest that Mr. Prudnikov has lived in Odessa for a few years with his wife, and owns a software company.
In order to find other Bitsane employees, we studied the Azbit team, whose spokespersons have admitted they hired the exchange's developers. The website Azbit.com now lacks the name of the project's co-founder Michael Yermalitski of Belarus. It's very suspicious when the name of a company's co-founder disappears from its official website, but of course that had a reason. Mr. Yermalitski, who was an owner of a cryptocurrency portfolio worth $1.5 million and also the head of the Latvian company Poliphone that sells electronic devices, is also the co-founder of Bitsane. Or at least that's what an early presentation of Azbit plainly suggests.
Instead of Mr. Zmitrovich, then CMO, Sergei Ermolitski is listed as the CEO. He used to be the CEO of the Estonian company FxCash OÜ, and headed Bitsane's marketing department as of 2016.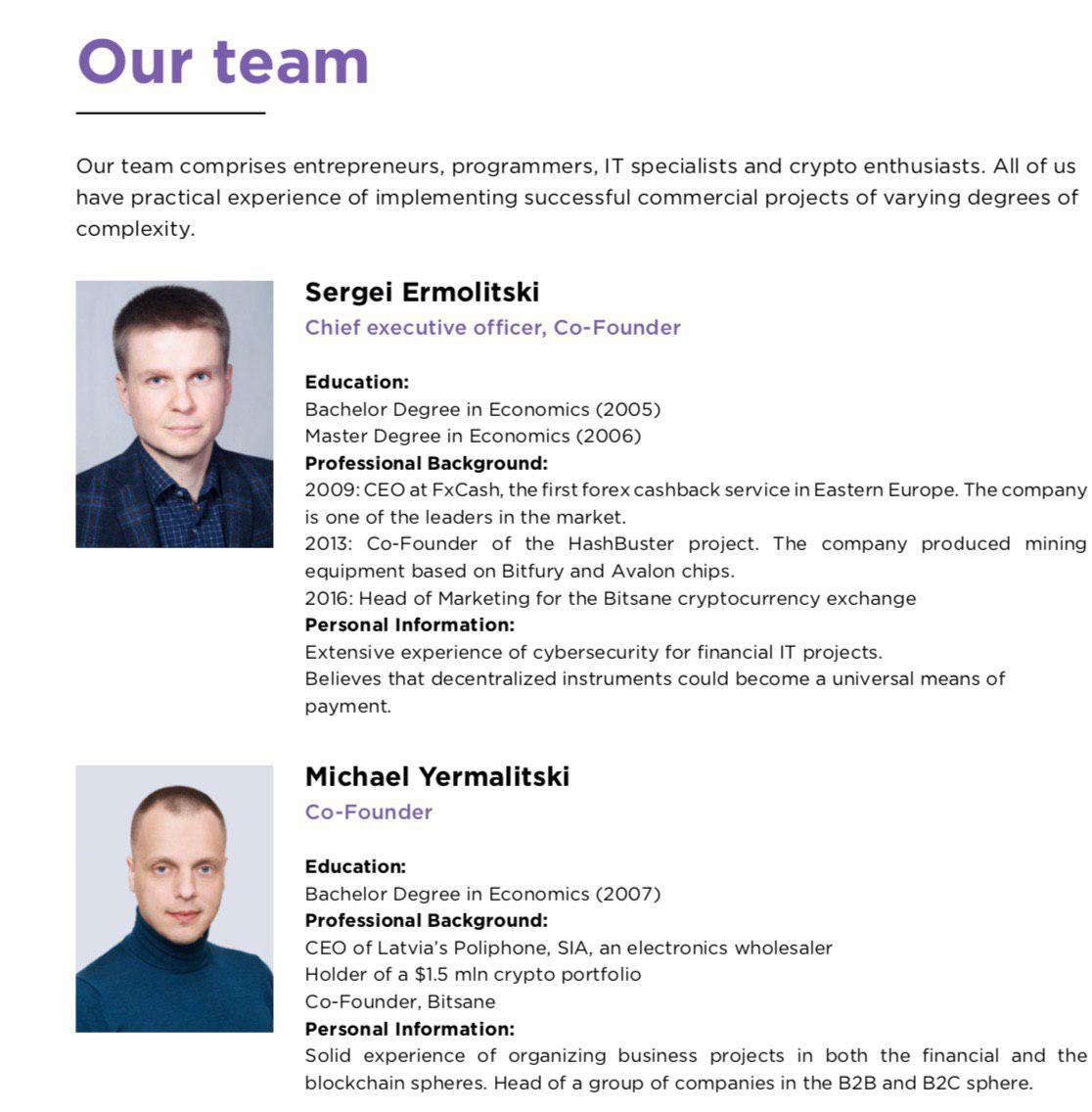 Notably, while their last names are spelled differently on the website, they are in fact different transliterations of the same Belarusian last name. Still, unlike his namesake or possibly a relative, Mr. Ermolitski's name remained on the website, though he is listed as the CMO without any mentions of Bitsane.
In 2013, he allegedly founded Hushbuster, a company manufacturing ASIC miners with Avalon and Bitfury's chips. Those miners were sold via bitcointalk.org, while Hashbuster.com redirected everyone to the same post during 2013 and 2014. The post reads that the delivery within Ukraine is free of charge. There is also a message that suggests that the company is based in Ukraine and buys broken ASIC devices that use BitFury chips.
Azbit's presentation (version 4.07) mentions Bitsane nine times. It also says that the Azbit team is experienced in establishing cryptocurrency exchanges, and references Bitsane as an example. Finally, the presentation claims that Azbit and Bitsane have signed a contract for liquidity provision.
Moreover, Mr. Zmitrovich's brief CV claims that he was involved in Bitsane's business development, though the Medium post quoted above omits any of this information.
The CTO of Azbit was Igor Kostyukovsky. The same Mr. Kostuykovsky was the CTO of Bitsane as of April 2016 (his LinkedIn profile was deleted). 
Notably, one can google an image of net data on bitsane.com. It shows that Mr. Zmitrovich is listed as the owner, however, no public ledgers confirm that, so we cannot be 100% sure that this image is authentic. It could be partially or completely altered as no Bitsane Limited existed as of the date of the domain's registration.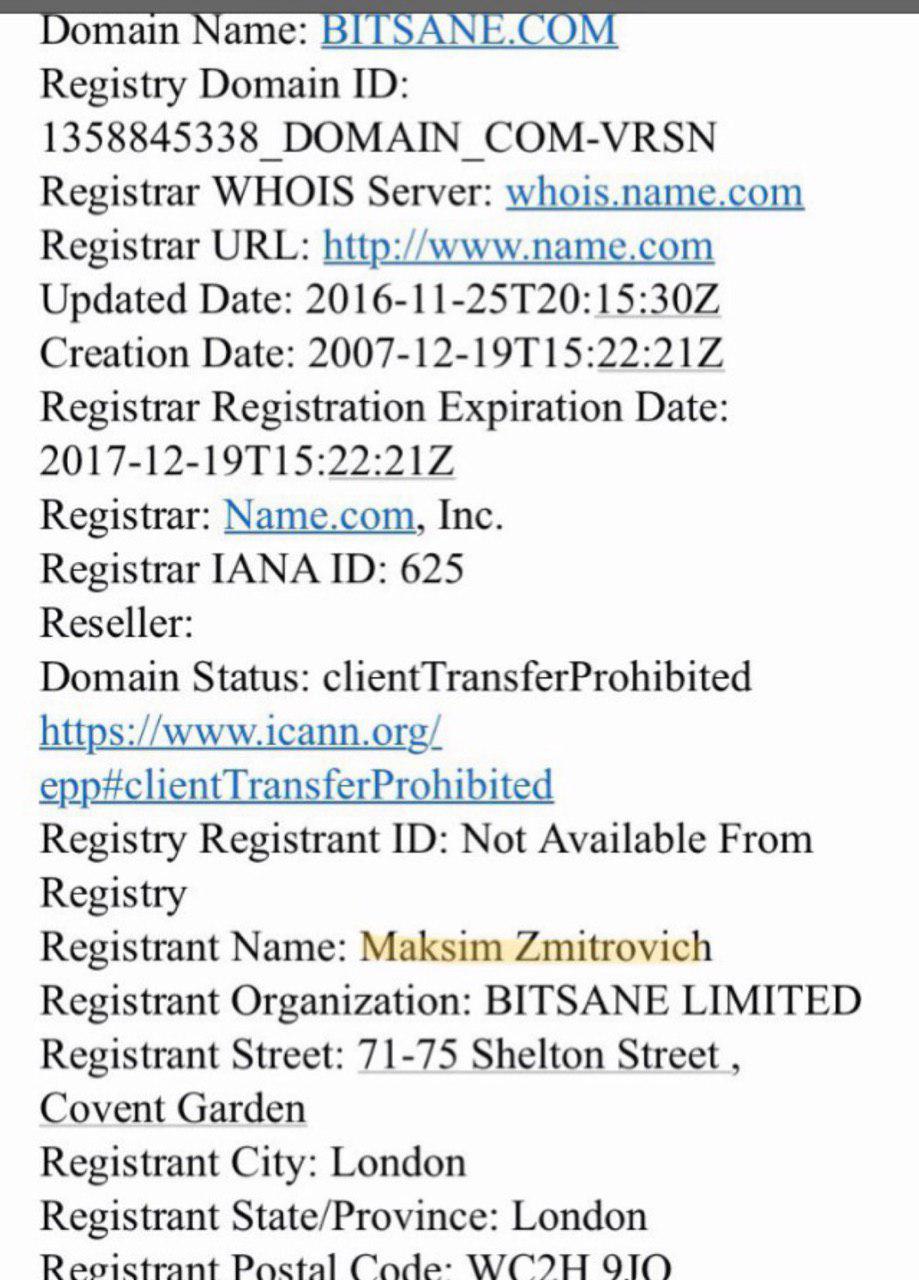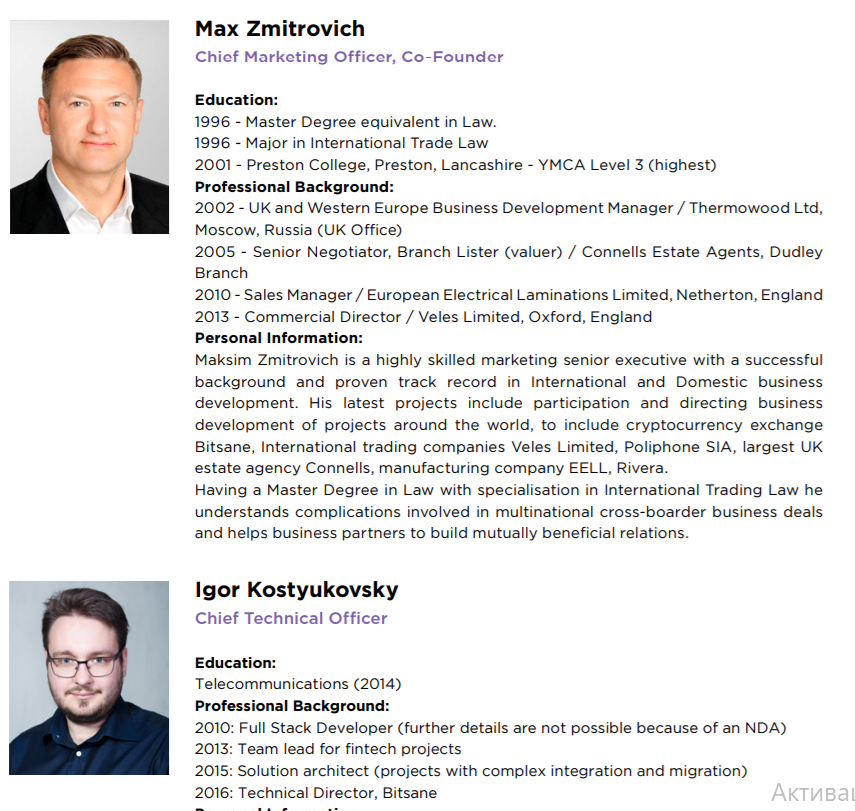 The Head of Content at Azbit and Bitsane was the same person: Alex Kozorez, previously of FxCash, where he is likely to have met Sergei Ermolitski.
Azbit's head of analytics was Nik Rovneiko, senior analyst at Bitsane born in, you guessed right, Grodno in Belarus. Meanwhile, Azbit's statistic department was headed by Kirill Pukshta, former information analyst at Bitsane LP.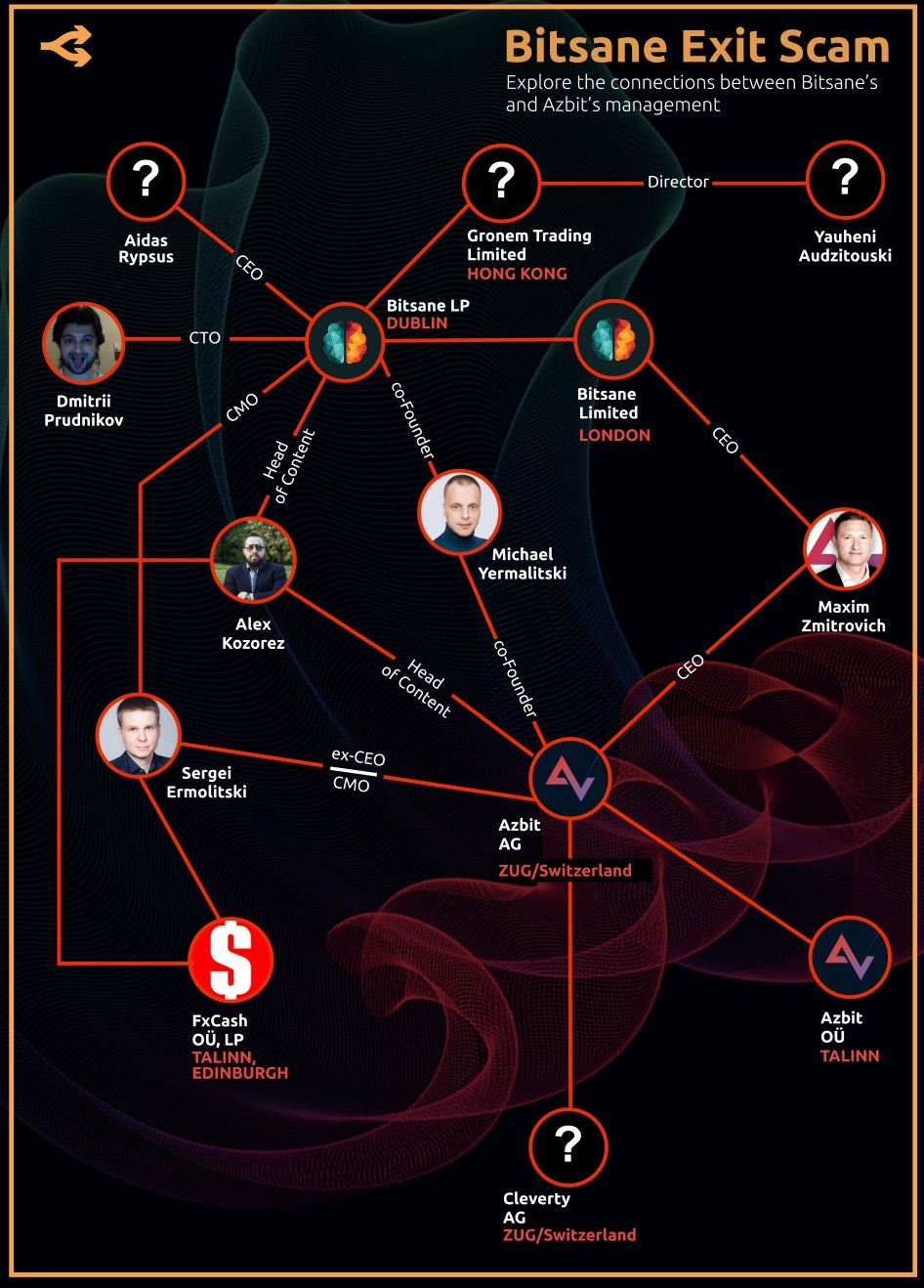 [Some Bitsane / Azbit connections]
Financial Footprints
Most top managers common to Azbit and Bitsane are Belarusian nationals with business connections in the Baltics. Some of them might have dual citizenship.
It is also known that Bitsane accepted fiat payments via MisterTango (Lithuania) and TrustPay (Slovakia) for a while.


It may suggest that the exit scam was poorly planned as people probably involved in it have failed to cover their tracks. Alternatively, they may be confident that law enforcement will fail to conduct an efficient investigation. 
In early July 2019, local Irish publication Fora reported that the Bitsane CEO Aidas Rupsis hired the Lithuanian law firm Baltesco to conduct an internal investigation. The company stressed in the letter to the publication that Mr. Rupsis had no personal access to the customers' assets, and there was a "breakdown in communication" among some senior officers. Baltesco did not disclose the data on the financial flows related to the exchange referencing the GDPR as the cause.
ForkLog has found two companies named Baltesco: one of them is indeed in Lithuania bit focuses on real estate sales. The second is based in the UK but sells spare parts for cars. The Lithuanian company's website was unavailable. Those facts make the story of a law firm conducting internal audit implausible. 
Still, it's not the only trail of footprints leading to Lithuania. If you take a look at Bitsane's website version as of 1 April 2019, it contains info on the partnership with New Capital LT registered in Vilnius, Lithuania. It is a blockchain startup developing some protocols including FIX Network. Both projects are co-founded by Alex Rozhanski who may know senior staff of Bitsane currently on the run.
Finally, right before the exit scam, someone has withdrawn XRP tokens from Bitsane. Those financial flows lead to Binance, Bitstamp, and Coinbase all of whom conduct KYC procedures. This means that their administration could help law enforcement investigate the crime.
By Nick Schteringard
Follow us on Twitter and Facebook and join our Telegram channel to know what's up with crypto and why it's important.
Found a typo? Highlight text and press CTRL+ENTER
Subscribe to our Newsletter

<