#ForkGoogle: Blockchain-Powered Alternatives to YouTube
Supporting the #ForkGoogle initiative, we take a look at YouTube competitors among blockchain-based video hosting and streaming services.
Given the cases of unreasonable blocking of cryptocurrency-related content and ads by YouTube, it is crucial to have a blockchain alternative. Most such platforms aren't going to make it, but all it takes is just a single viable product.
To support the initiative sign the petition and share it with #ForkGoogle hashtag.
Dtube
Dtube is a video hosting platform and YouTube alternative based on a fork of Steem blockchain. The mainnet launch is scheduled for May 10th, 2020.
The platform's UI closely follows the main competitor. To the left, there is a typical set of video feeds (hot, trending, etc.) and user playlists. The top menu has the search bar, notifications, settings buttons. Both the top and left-hand menus have options for video upload.
Dtube main page. Source: Dtube
Still, Dtube has two important things, which YouTube doesn't:
Voting for "leaders" (seven validators responsible for block generation). The election is supposed to be led by DTC token holders.
A list of "hot" tags that aren't popular on YouTube.
According to the project's whitepaper, Dtube solves several problems:
Content distribution algorithms are opaque.
Automatic or manual content moderation done by the operating company is ineffective.
Content creators get a fraction of the revenues from the content they make or get nothing at all. The revenues go to the platform owners.
To solve these problems Dtube will introduce automatic payouts for content production and monetary incentives for the readers to interact with content.
Dtube developers have premined DTC tokens. The platform rewards users for rating new videos, voting, tagging, commenting, or reposting videos from other platforms like YouTube or Facebook. More likes, views, etc. means a bigger total reward for the video.
Dtube doesn't have paid ads. Content recommendation algorithm is based on community opinion: videos with more interactions get higher in the list of trending or popular content. Dtube doesn't collect personal data on information about users' behavior.
The network adds Voting Power (VP) to the accounts of DTC holders. This reward depends on the amount of DTC token a user holds, more tokens—more VP. VP is used to vote for videos or promote own content. If a video gets popular, the author and all the users who voted for it get rewards in DTC.
Users who vote for videos get rewarded for doing the job of moderators and finding good content. Those who voted for a popular video early on get a bigger share of the reward.
Dtube is an attempt to build an alternative to YouTube where the content is controlled by the users without a central power. Yet, the project is far from being ready. Many functions and sections aren't available yet, there also are issues with localization and design. These problems may be solved by the time of the scheduled mainnet launch.
According to SimilarWeb, In February, Dtube was visited 291 thousand times. Back in November 2019, the number was around 400 thousand. Meanwhile, YouTube is the second most visited website in the world with 27.36 billion visits in February alone. Number one is, of course, Google.
Dlive
Dlive is a streaming platform based on Lino blockchain meant to be an alternative to Twitch. In late 2019, the project joined the BitTorrent ecosystem. Similarly to Steemit, it is also planning to migrate to Tron blockchain. The platform's own blockchain, which was promised to go live in 2019, is still in testing.
Dlive became somewhat famous after hosting streams of a popular video blogger PewDiePie, who also contributed to the promotion of the project. Thanks to his involvement, the platform reached 5 million users and 70 thousand streamers in a few months' time.
According to SimilarWeb, in February, Dlive had 4.82 million visits against Twitch's 638 million.
Dlive is similar in concept to Steemit and Dtube, but it focuses more on rewarding content creators. The platform has no ads and the team doesn't control the content.
The main page shows ongoing streams and offers a search bar to look for streams by game or topic.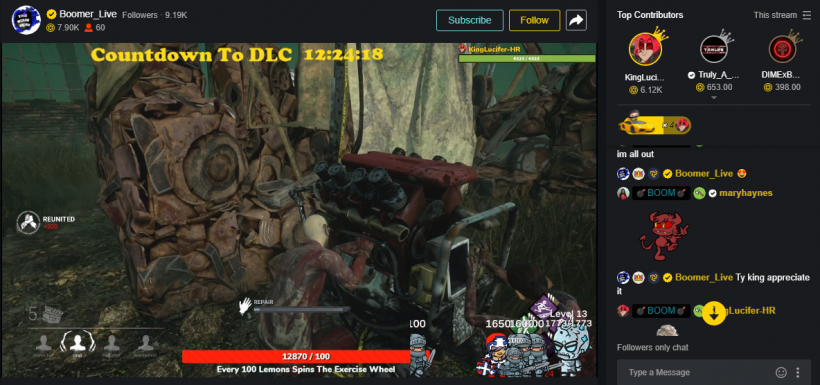 Stream page. Source: Dlive
There are menus with the user's balance of the local currency called Lemon and subscriptions, as well as menus for video upload and balance replenishment.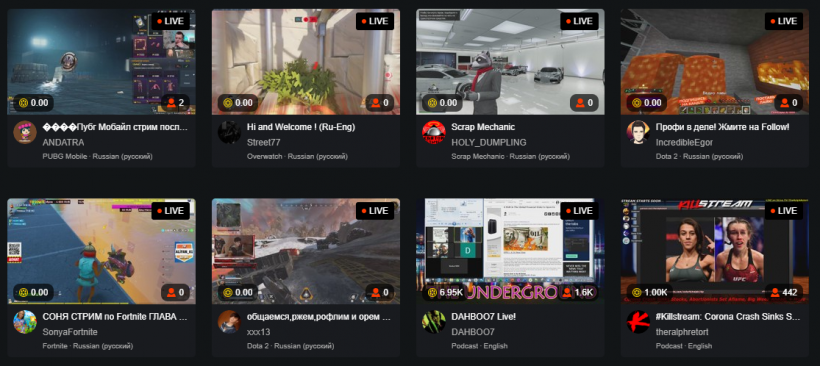 Live stream feed. Source: Dlive
Just like Twitch, Dlive has an in-built donation system. For regular payment, users can subscribe to certain streamers and get notifications about the upcoming streams, stickers, username colors, and other benefits.
Dlive developers claim that 90% of the revenue from donations and subscriptions goes to streamers as a reward for popularity and high ratings. The rest goes to the users who staked Lemon tokens.
According to Lino's whitepaper, staking allows users to vote for changes in the system parameters or decisions regarding project development. It also allows users to become validators and receive commissions for processing transactions and blocks.
There is a public ledger of all donations, showing the donors and the sums of donations for each stream and each streamer.
The business model of the platform itself isn't clear. The project's representatives talk about "various sources of income," including investments and founders' own money, as well as potential advertisement and brand partnership revenue. Lemon token isn't listed on any third-party exchanges and can only be bought at a fixed price for fiat or Bitcoin. Additionally, tokens can't be immediately converted into liquid assets, as withdrawals are managed manually once a week.
The project's financial system raises certain concerns among users and reviewers who suspect the project of creating a Ponzi scheme. The fact that Dlive decided to move to Tron blockchain even before the launch of the mainnet is also quite surprising. Lino block explorer shows that there are 15 validators, but there is no information about them or the respective voting procedures.
Antube
Antube is a mobile-only app made by a South Korean company DATA. DATA is a strategic partner of Klaytn blockchain platform developed by Kakao, the owner of the country's most popular messenger.
Like Facebook, Kakao needs a blockchain to monetize its side products. Although, Kakao only promotes Klaytn on the internal market, for which the project has the regulator's approval. This year Kakao is planning to introduce a messenger and a payment system powered by Klaytn.
Antube app has over a million installations on Google Play. Including Antube in the list of pre-installed apps in Samsung KlaytnPhone may have contributed to the popularity.
The app is powered by Klaytn platform and uses its native wallet. All the other blockchain features are covered by DATA's solutions.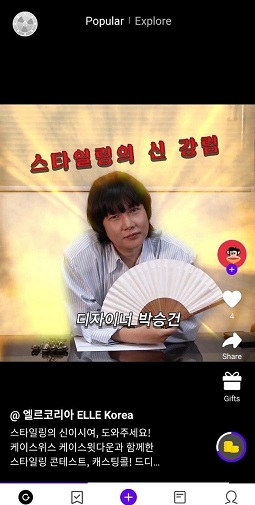 Antube feed
Antube users get tokens for watching ads and interacting with content. According to the official website, DATA is aiming to eliminate the middleman between advertisers and end users.
The company developed an "IPFS-inspired" technology for controlling metadata and adapted it for mobile devices. The website says that users' devices turn into nodes that verify the data about actions within the app. Users and advertisers connect directly as in a p2p network.
When it comes to advertising, Antube has lots of it. Users get coins for watching ads, scrolling the feed of popular videos or completing tasks like sharing videos or inviting new users. It isn't entirely clear, what is the use of the tokens. The app doesn't have paid features like a premium account or ad-free option. Users can spend tokens in the built-in lottery to get more tokens.
Tokens can also be withdrawn to a wallet and exchanged for other cryptocurrencies. Although, the withdrawals are limited. One would spend quite a while watching ads and posting videos to actually withdraw the tokens.
There are certain concerns about the popularity of the app. "Popular" videos rarely get more than 10 likes and the Explore section doesn't work. Almost all top videos are posted by local fashion magazines. The project's social networks haven't been updated since last year. The high installation numbers on Google Play are probably caused by pre-installed copies on Samsung phones.
Follow us on Twitter and Facebook and join our Telegram channel to know what's up with crypto and why it's important.
Found a typo? Highlight text and press CTRL+ENTER
Subscribe to our Newsletter

<