Estimated $1.36 Billion In Crypto Lost To Criminals In First Half of 2020
According to the report by CipherTrace, in the first 5 months of 2020, the total losses of cryptocurrencies to criminals and scammers amounted to $1.36 billion. Researches suggest 2020 may bring the second-highest total crypto lost to crime ever observed, the current record being 2019's $4.5 billion.
The researchers found that 98% of the losses attribute to investment fraud and misappropriation. In this category, a Chinese Ponzi scheme Wotoken takes up the bigger part with at least $1 billion stolen from 715,000 victims. The remaining 2% of the total $1.36 billion went to fake mixers, phishing websites, blackmailers, and such.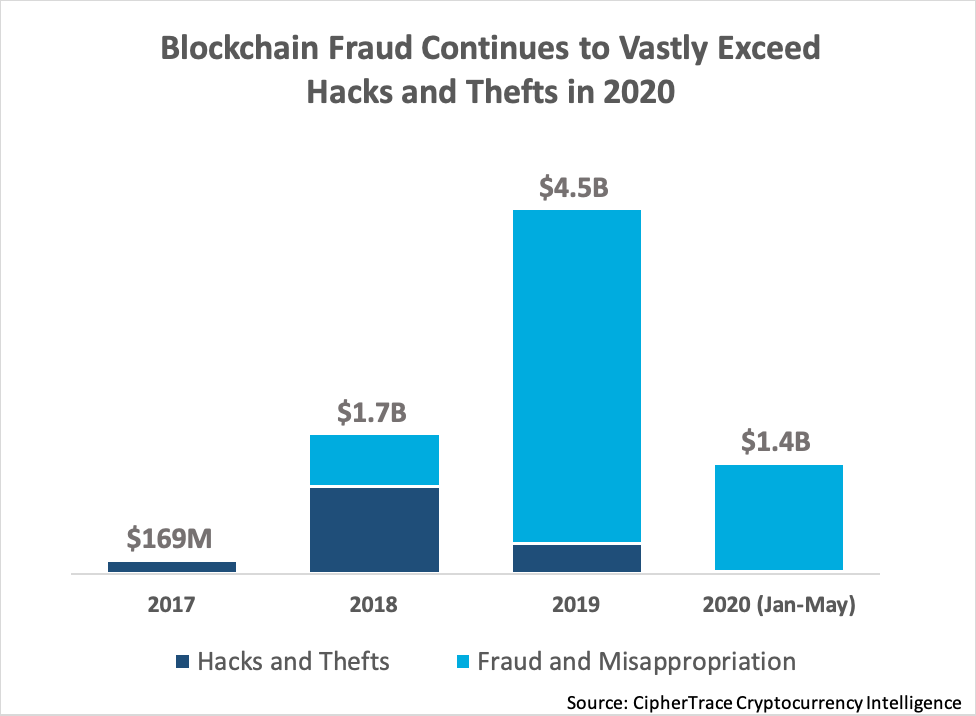 Total value lost in cryptocurrencies by year and category. Source CipherTrace
The report also suggests that AML and KYC policies implemented by crypto-exchanges are reasonably effective in deterring criminals with illegally obtained funds. The average amount of criminal money sent directly to exchanges almost halved in 2019, which can mean that it was harder to get rid of "hot" coins. Still, the researchers noted that criminals find better ways to hide the bad history of their coins. Moreover, CipherTrace has found that only 44% of 500 service providers had strong KYC processes.
Exchanges in Finland and Russia turned out to be the largest direct recipients of stolen funds. Finnish p2p exchange platform LocalBitcoins maintained its leadership: each 8th coin on the platform had a criminal history. On Russian exchanges, about each 20th coin had criminal origins. The researcher estimated that about 86% of criminal funds on Russian platforms came from Hydra, a large dark web marketplace operating predominantly across Russia and neighboring countries. Notably, the same marketplace was responsible for about 31.2% of the criminal funds coming to exchanges in the UK.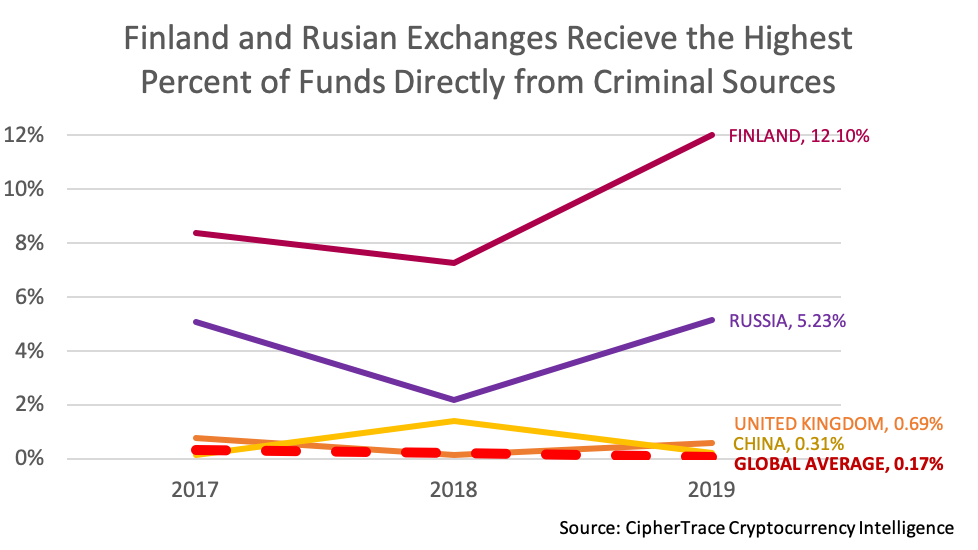 Share of funds crypto-exchanges received directly from criminal sources. Source: CipherTrace
Aside from keeping away from criminal money and ramping up their KYC, crypto-exchanges and other virtual asset service providers have to deal with personal data leaks. These don't contribute to the actual money lost but still cause substantial harm to both businesses and regular users.
Just recently, on June 2nd, a Japanese exchange Coincheck warned about a data leak involving names, addresses, birth dates, phone numbers, and other sensitive information on around 200 of its customers. In May, crypto-lending platform BlockFi suffered a data breach exposing users' account activity, emails, and postal addresses, although things like social security numbers and government ID scans remained secure, The Block reported. The media itself faced a data breach affecting its paid subscribers, the leaked data was reportedly sold for $5,000 as of May 29th.
Follow us on Twitter and Facebook and join our Telegram channel to know what's up with crypto and why it's important.
Found a typo? Highlight text and press CTRL+ENTER
Subscribe to our Newsletter

<