Dead Man's Chest: A Story of QuadrigaCX CEO Gerald Cotten Who Took $137 Million Worth of Users' Assets to the Grave
On December 9, 2018, in the Indian city of Jaipur QudrigaCX CEO Gerald Cotten (30) allegedly died of cardiac arrest. He was reported to have suffered from Crohn's disease and on the day of his death turned out to be the only holder of private keys to cold wallets with QuadrigaCX's users' assets worth $137 million. At least that is how the official version goes. Can it be trusted?
Glam and Bling
In the summer of 2017, Gerald Cotten acquired an island off the southern coast of Nova Scotia with an area of 1.61 hectares. He also bought a heavily customized JEANNEAU 51 yacht for $600,000. One of the main requirements the young entrepreneur had for the vessel was the ability to get straight to the Caribbean islands without having to refuel in Canada or the USA.
Cotten and his wife Jennifer Robertson have built a house on their private island but never actually moved into it. In the span of just two years, the couple acquired 16 real estate properties in the Canadian cities of Lunenberg, Bedford, Kelowna, Calgary, and Fall River, an elite suburb of Halifax. The total cost of these houses was estimated at $7.5 million. Cotten also owned a single-engine Cessna 400 aircraft and two cars: Lexus (2017) and Mini Cooper (2015).
These Bedford houses belonged to Robertson. Source: CBC 
Since 2016 Jennifer Robertson traveled a lot: Oman, Myanmar, Maldives, Dubai, Rio de Janeiro. Judging by her Instagram account she often flew private jets claiming she was addicted to travel.
It looked like Cotten was doing great at the time. There it was, an incredible story of success with very few ingredients: a human brain and a Macbook Pro.
But there was also a darker side to this story. After Cotten's sudden death more than 75,000 users lost access to their digital assets with a total worth of $137 million. Multiple investigations came to the same conclusion: the founder of QuadrigaCX was not exactly who he claimed to be and his death could actually have been staged.
The Happy-Go-Lucky Introvert's Dark Beginnings
According to Vanity Fair, Cotten spent his childhood in the small town of Belleville located between Toronto and Montreal. His parents owned a small antique store. The future Bitcoin entrepreneur attended business school at York University in Toronto.
Cotten's Belleville house. Sources: Globe and Mail
He moved to Vancouver in 2013 where he soon joined a group of 10 people named Vancouver Bitcoin Co-op. They held regular meet-ups discussing libertarian values ​​and opportunities that Bitcoin offered to people in countries stricken with economic crises.
In November 2013 Cotten, in partnership with Michael Patryn, launched the QuadrigaCX exchange. While previously Canadian residents had to interact with several bank intermediaries to send money to their Mt.Gox accounts, trading on QuadrigaCX significantly reduced costs. The exchange even allowed users to make a deposit with ounces of gold right in the office where they also placed the second cryptocurrency ATM in Canada's history. The platform even had a FinTRAC AML license, which undoubtedly boosted users' trust.
Cotten became the head of Vancouver Bitcoin Co-op and started sponsoring local conferences and educational events, yet he eschewed forming any friendships with the members of the group. Some of his acquaintances at the time told Vanity Fair that he really seemed to believe in Bitcoin and had long term plans pertaining to it.
After the closure of CaVirTex and Vault of Satoshi exchanges in 2014, QuadrigaCX suddenly found itself in the leading position in Canada. Cotten even raised 850,000 Canadian dollars to enter the stock exchange. But a row with one of the investors made the entrepreneur eventually refuse to issue shares, which caused the entire board of directors to leave the company. Cotten remained the only full-time employee.
Despite the loss of 14 million Canadian dollars due to a "software error" and further 21 million Canadian dollars being frozen by the Canadian Imperial Bank of Commerce, QuadrigaCX remained up and running during the Bitcoin rally in 2017 and until the death of Cotten.
Yet while Cotten was highly regarded by the local community, his former partner Michael Patryn aroused serious suspicion. Eventually, it turned out this suspicion was well-justified.
Patryn appeared in Vancouver out of nowhere and immediately joined Bitcoin Co-op. He made a point of obfuscating the country of his origin, on different occasions mentioning Pakistan, India, and Italy. Muscular and covered in tattoos, he liked making pictures with predators and sports cars. He seemed to be the exact opposite of the reserved Cotten, whom he saw as his "little brother."
After his partner's death, Patryn tried to distance himself from QuadrigaCX, claiming to be just an adviser. But Vancouver Bitcoin Co-op members insisted that from the very first day it was Patryn who made plans to launch the exchange and that he was a co-founder along with Cotten.
According to Patryn, he first met the deceased entrepreneur online about five years ago (2013) but this turned out to be a lie. The connection between Patryn and Cotten traces back right to the TalkGold website which promoted various Ponzi schemes since 2003.
Gerald Goes Rogue
Back in the 2000s, the TalkGold forum used to be a public platform for promoting various HYIPs and Ponzi schemes. At TalkGold one could find tips on building Ponzi schemes from scratch, exit scam stratagems, and other advisory services pertaining to fraud. U.S. authorities shut the forum down only in 2016.
A Globe and Mail investigation revealed that Gerald Cotten registered on TalkGold in the summer of 2003. He was only 15 back then. Over the next ten years, he made more than 2,000 publications on TalkGold using different accounts and under different pseudonyms, promoting questionable financial schemes.
Come 2004, his S&S Investments scheme, which promised an ROI of 150% within 48 hours, got in trouble when he was unable to return funds to at least 235 people.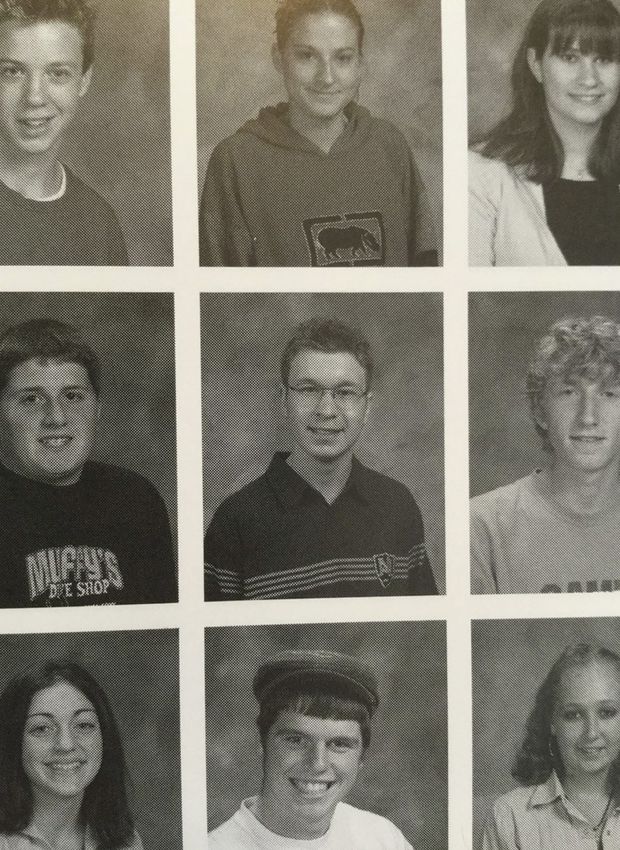 Gerald Cotten in 11th grade (center, second row). Sources: Globe and Mail
"If a threat of any kind is made…you are stating that you do not wish to receive a refund and you will not receive one," said the scheme's representative whose account was linked to an edgy-sounding email address: sceptre@sceptre.me. According to Globe and Mail, this address belonged to Cotten.
Some people who were scammed by S&S Investments managed to establish Cotten's real name and he was forced to soon launch a similar HYIP scheme named Lucky-Invest in order to ensure payments to victims of the previous one.
Just before Cotten entered business school in the summer of 2006, an owner of another website promoting HYIP received a message from an address that also belonged to Cotten. The future founder of QuadrigaCX, who at the time ran the United Private Investment Enterprise (U-Pie) scheme, urgently needed a loan of $5,000. He offered the owner of this site a 25% referral bonus in exchange for ads.
On TalkGold, the scheme was promoted by an account named Voltaire. In November 2006, in Toronto, a small group of U-Pie investors attended a meeting with a young man who introduced himself as Dan Vanaman from Florida and who also was the aforementioned Voltaire from the forums. According to the descriptions provided, he looked extremely similar to Cotten. U-Pie suddenly shut down in 2007 and the Voltaire account never showed any signs of life again.
It was there, on the digital pages of TalkGold, that Cotten met his future partner Patryn, who was a member of the forum since April 3, 2003. Both often defended each other in the comments, forming a concerted line of defense against the fuming "investors"
In 2004 some TalkGold users came up with a theory that Michael Patryn might have actually been Omar Dhanani, a U.S. national who had served a prison term in the United States for identity theft. Shortly Omar was arrested for providing money-laundering services and was sentenced to 18 months in prison. In 2007 he was deported to Canada, where he officially changed his name to Michael Patryn.
Left photo: Omar Dhanani circa 2005; Right photo: Michael Patryn in 2015. Sources: Globe and Mail
In early 2008 Patryn launched the Midas Gold processing service for the Liberty Reserve electronic payment system. According to U.S. law enforcement agencies, this service facilitated countless illegal transactions and money laundering. One of Midas Gold's public contact emails was gerald.cotten@gmail.com.
In 2013, after an investigation spanning 17 countries, the US federal authorities cracked down on Liberty Reserve as part of the largest online money laundering case. Midas Gold, which by that time began accepting Bitcoins, also ceased to exist.
Shortly before this, Cotten allegedly ran another HYIP project named The Quadriga Fund, which supposedly invested in venture capital and foreign exchange markets. The Quadriga Fund supported both Liberty Reserve and Bitcoin via Patryn's processing service.
At the end of 2013, Cotten began searching for an engineer who could create a platform for buying and selling bitcoins. He even posted ads on the BlackHatWorld forum. Shortly afterward, the QuadrigaCX exchange was born.
Mysterious demise
"…take your private key, print it off, store it offline in your safety deposit box, vault, whatever, and then take the public key, which is your address, and use that to send money to it. So that way you can never have your Bitcoin stolen, unless someone, like, breaks into the bank, steals your safety deposit box and gets into your private key and so forth," Cotten said during the True Bromance podcast in February 2014. That is how, according to him, they kept private keys at QuadrigaCX.
Shortly before he died, Cotten told friends and family that in the event of his premature death or disappearance, QuadrigaCX had a "dead man's switch" mechanism that would provide them with the necessary access to funds.
On November 27, 2018, two weeks before his death in Jaipur, he signed his will. The document stated that all of his property, valued at $9.6 million at the time, would be transferred to Robertson. A separate point was also made about digital assets. His wife was entitled to all the entrepreneur's passwords. Cotten also allocated 100,000 Canadian dollars to take care of his two Chihuahua dogs.
Robertson later claimed in court documents that she had never had access to the exchange's processes or user funds. According to her, only Cotten had access to private keys.
The death certificate issued in Halifax is dated December 12, 2018. But the cause of death is not indicated. The Fortis Escorts private hospital in Jaipur confirmed that Cotten was treated with septic shock as a result of a complication of Crohn's disease and died after repeated heart failure at 19:26, December 9.
This official account spawned many doubts among the users of the exchange, given that a few months earlier a senior manager of Fortis Escorts was caught in financial fraud, and Cotten's name was indicated in the Indian certificate with an error.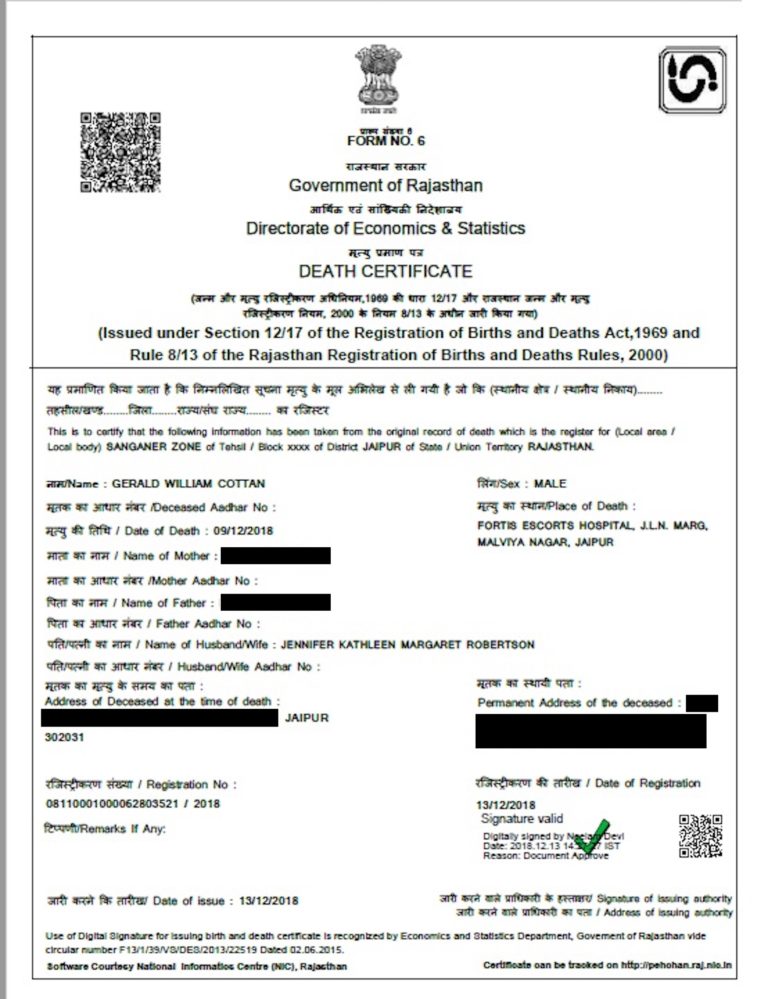 It was also strange that the hospital returned the body to the Oberoi Hotel and refused to take it back. The embalming was eventually carried out at a local medical college, while Robertson announced the death of the founder of QuadrigaCX a whole month later, in mid-January.
Today suspicious users demand exhumation, as they doubt that the body that was buried belongs to Cotten. At the same time, the FBI started a criminal investigation.
Following the money
In February 2019, QuadrigaCX petitioned the court to temporarily protect it from lawsuits so that it could take its time and figure out whether it had any money left and whether it could somehow access it. The court granted the request and gave the exchange a month. Ernst and Young were invited to audit QuadrigaCX.
The losses were estimated at $137 million in cryptocurrency equivalent and $50 million in fiat, which for various reasons was held by third parties.
During the initial audit it turned out that in early February, while sorting out the accounts,  QuadrigaCX mistakenly transferred 103 BTC to a cold wallet, which no one had access to. Ernst and Young managed to establish control over 52 BTC, 0.014 BSV, 33 BCH, 2,000 BTG, 800 LTC, and 960 ETH. The company also received some of Cotten's personal belongings, including four laptops, four mobile phones, and three encrypted USB keys.
It was also revealed that in the period from December 2 to December 8, on the eve of Cotten's death, 9,000 ETH was transferred from the hot wallets of QuadrigaCX to several exchanges. Elementus analyst firm claimed in February that QuadrigaCX never had any cold wallets for Ethereum at all. Elementus concluded that at least 268,000 ETH was moved from QuadrigaCX to ShapeShift.
In March Ernst and Young representatives announced that they were unable to locate 26,350 BTC ($230.5 million as of January 15, 2020) on cold wallets. The auditor determined that from 2016 to 2019, 9,450 BTC, 387,738 ETH, and 239,000 LTC were transferred from QuadrigaCX to other exchanges, but did not take into account another transaction at 21,501 BTC.
Coinbase CEO Brian Armstrong suggested that QuadrigaCX could have had liquidity problems long before Cotten's death and that management could have used user funds in risky trading deals to make the ends meet. This assumption was confirmed in June by Ernst and Young specialists: Cotten withdrew client assets to personal accounts on other exchanges, where he sold them or opened marginal positions for low-liquid coins like Dogecoin, which often led to a complete squandering of funds.
According to some, Michael Patryn, who allegedly made transactions on BitMEX worth millions of dollars, was especially fond of margin trading.
So magic internet detectives found this. Uhhhhh

Cc @sudogene #QuadrigaCX pic.twitter.com/D0fqPDsZY2

— I am Nomad (@IamNomad) March 7, 2019
As the bankruptcy proceedings started, Ernst and Young were appointed QuadrigaCX's trustee. The company had a hard time reconstructing the chain of events since Cotten managed the exchange himself, did not file tax returns, accepted cash deposits and carried out customer withdrawals manually without any systematic accounting.
In October, Jennifer Robertson agreed to transfer her own assets of $9 million, including real estate, to Ernst and Young, to cover user losses. She was left with a relatively small amount of cash, a car, and some jewelry.
Adding up the scraps by April QuadrigaCX had 29 million Canadian dollars which didn't even approach the amount of lost user funds. 
Dead Man's Chest
Given Gerald Cotten's past, it was not surprising that the very fact of his death was called into question. Neither was it surprising that users trusted a third party with their money and subsequently lost it. Each exit scam and each hacker attack only confirms that your assets that are stored on the exchange are in actuality assets of the exchange.
No one noticed Cotten opening insane positions on Dogecoin. He knew that users do not closely follow exchange wallets and they do not care about the third party's accountability until it is too late. Regardless of whether Cotten is alive or dead, the chaos surrounding QuadrigaCX should once again remind the community that each one of us is personally responsible for his or her money. 
The longer Bitcoin exists the more "dead men's chests" will litter the muddy waters. Unfortunately, Cotten's "chest" took to the bottom of the digital ocean the Bitcoins of tens of thousands of people and we will likely never see them ever again.
Written by Nick Schteringard
Follow us on Twitter and Facebook and join our Telegram channel to know what's up with crypto and why it's important.
Found a typo? Highlight text and press CTRL+ENTER
Subscribe to our Newsletter

<