Bitcoin Collapse and the Crisis in the Financial Markets With Live Updates: Opinions, Estimates, Forecasts
On Friday (UTC time zone), March 13, Bitcoin's price at some point fell to $3,800, having lost more than 50% of its value overnight. Ethereum's price dropped below $100 for the first time since December 2018.
Read all about current market events and opinions in our live broadcast(most recent news at the top).
---
At 16:00 UTC, there were 50,000 unconfirmed transactions in the Bitcoin mempool, but in just half an hour their number dropped to zero. However, some services show values in the range of 70,000 – 80,000. Most likely, the Blockchain.com node had technical difficulties.
---
During yesterday's collapse, the Ethereum network was heavily loaded with transactions. In an attempt to make transfers, users paid 5,112 ETH in fees in just one day.
Median fees spiked due to network congestion, as people rushed to make transactions amidst the market volatility pic.twitter.com/RWICIRRQh9

— CoinMetrics.io (@coinmetrics) March 13, 2020
---
Pearson's 90-day correlation coefficient of daily BTC and S&P500 return hits all-time high. At the same time BTC-VIX "fear index" dropped to a historic low.
BTC-VIX correlation hits ATL. Not sure what to make of that.https://t.co/JJbex4ipCs

— nic carter (@nic__carter) March 13, 2020
---
A well-known trader and Bitcoin evangelist WhalePanda said that bearing in mind the events of the last 24 hours when the BitMEX derivatives exchange "very conveniently" went offline during trading peaks, he can no longer recommend it as a platform for trading.
After the last 24 hours I can no longer recommend to trade on @BitMEXdotcom. I've always traded there after that it became a good alternative for @okex.
Going offline very conveniently during peak trading times twice in 24 hours (1 "hardware issue" and 1 "DDOS attack").

— WhalePanda (@WhalePanda) March 13, 2020
---
16:00 UTC. Over the past few hours, the price of Bitcoin has again gone down, at some point dropping below $5,000 again. By this minute, Bitcoin is trading at around $5,200.
---
Charles Hoskinson announced the death of XX century's world economic order.
---
President Donald Trump announces the national emergency.
BREAKING: President Trump to declare a national emergency over coronavirus to speed up the response to the outbreak; news conference at 3 p.m. ET – Bloomberg

— Breaking911 (@Breaking911) March 13, 2020
Eugene Zolotoy, 51ASIC CEO:
"Of course, Bitcoin's collapse cannot be good for miners. Everyone is trying to stay calm and hope that this plunge is temporary. The question is how the network and complexity will react.

If the situation drags on, owners of outdated equipment, such as Antminer S9, will have to turn off their devices. Owners of more advanced equipment will have to start thinking about improving mining efficiency and reducing the cost of electricity in the long term."
---
According to Dovey Wan, partner at Primitive Ventures, coronavirus is receding outside the Hubei province.
??Guangzhou subway RN

Regions outside Hubei successfully "bent the curve" is very critical, this assures manufacturing capacity for life/medical essentials. Guangzhou is a big hub for consumer goods supply, said over 80% workforce is now back to work (my parents confirm too) pic.twitter.com/OoxFETH3Df

— Dovey 以德服人 Wan ?? (@DoveyWan) March 13, 2020
---
The leading indices show moderate growth.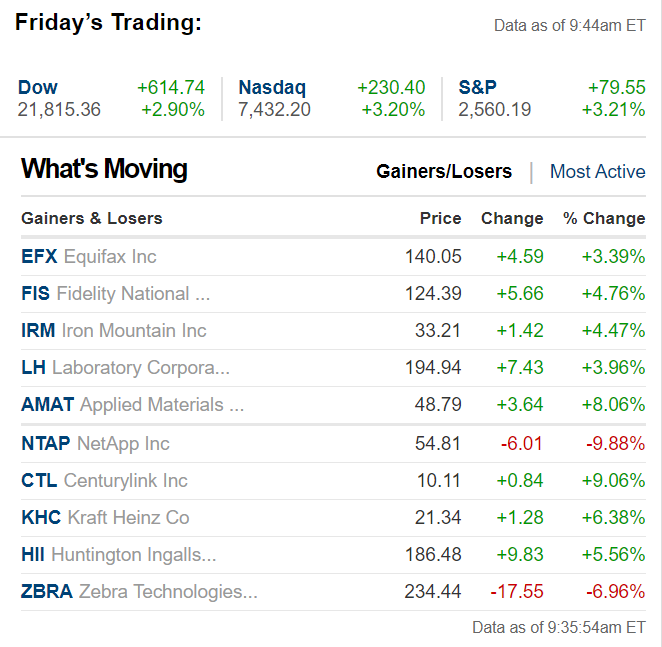 In South Korea, short selling will be banned for 6 months starting on March 16.
---
Coinmetrics reports that the ratio of market capitalization and realized capitalization has gone below 1 for the fourth time in history. The former index fell 46% this week, while the former only fell 3%. Coinmetrics notes that this means that long-term investors are not selling.
The large drop in MVRV is because the BTC market cap dropped 46% over the last 7 days, while the realized cap has only dropped 3% pic.twitter.com/dactAJRaKN

— CoinMetrics.io (@coinmetrics) March 13, 2020
---
The U.S. stock market opened with an optimistic trend.
U.S. stocks jump at the open https://t.co/F4NVsB5sOA pic.twitter.com/RRHg5xk8mK

— Bloomberg Markets (@markets) March 13, 2020
---
13:00 UTC, Bitcoin is trading at $ 5,610.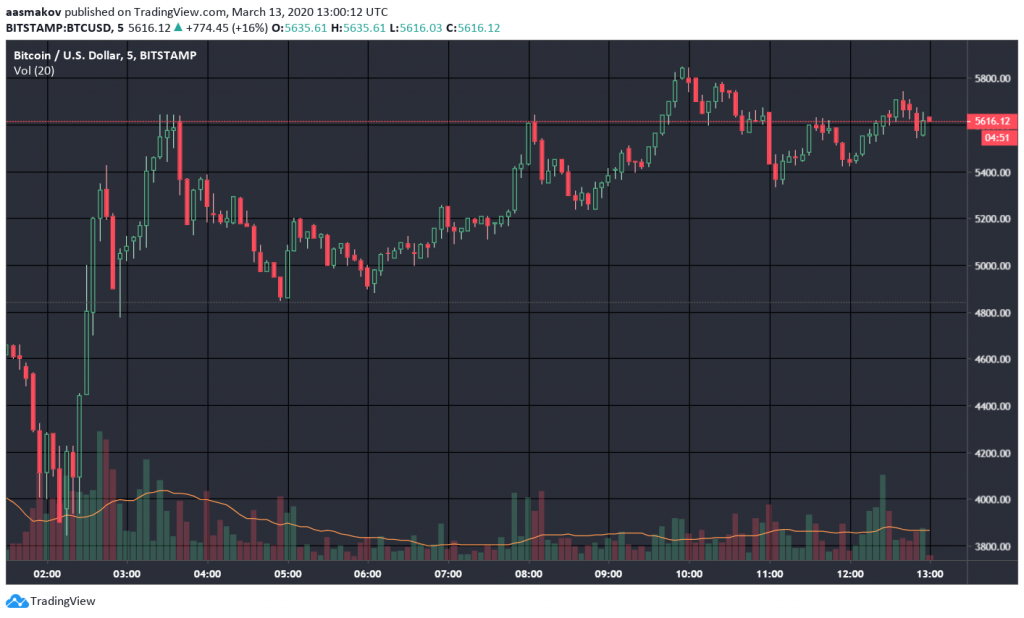 ---
Deribit derivatives exchange announces the injection of 500 BTC into its insurance fund.
❗️Due to extreme volatility, we've seen a significant impact on our BTC insurance fund. In order to prevent socialized losses we have decided to support the insurance fund and strengthen it by injecting 500 BTC of company funds.

— Deribit (@DeribitExchange) March 13, 2020
---
The well-known economist and vehement critic of Bitcoin Nouriel Roubini commented on the collapse of Bitcoin. He is predicting a global recession that will last at least until the end of the second quarter. According to him, the first to suffer will be China, South Korea, Japan, and Italy. Shortly after the crisis will hit the United States and the Eurozone.
However my view is that this will be more than a 2 quarters rolling recession. It is highly likely that most of the Eurozone and even the US may be in a recession already in Q1, not just Q2. And it is likely that the E7 & US and other G10 recession will spillover from Q2 into Q3

— Nouriel Roubini (@Nouriel) March 13, 2020
He is convinced that the crisis in 2020 is inevitable.
---
Meanwhile, futures for the American S&P 500 are going up on traditional markets, oil is also surging. The U.S. stock market will open soon.
U.S. stock index futures rebounded from the worst sell-off in 30 years, surging to exchange-mandated levels that prevent further gains as hopes for a more robust policy response increase https://t.co/BO5mSTJBdg pic.twitter.com/pI9vOQb9Ij

— Bloomberg (@business) March 13, 2020
And this is what the Tokyo Nikkei volatility looks like.
The Nikkei illustrates how the last 12 hours have been. That's three intraday 9% moves. pic.twitter.com/vCirhjXBNu

— Alex Krüger (@krugermacro) March 13, 2020
---
According to Skew, OKEx exchange became the leader in Bitcoin trading volume ($16.83 billion) over the past 24 hours. BitMEX took second place with $13.12 billion.
? Market Sell-off Update ?

1/. Bitcoin finally caught up with Wall Street crashing 39% yesterday during one of the most memorable and hectic trading session in its young history pic.twitter.com/qFpo6K1n5h

— skew (@skewdotcom) March 13, 2020
At the same time, the total volume of open positions fell by almost 50% to $2 billion.
3/. Total open interest – the number of outstanding futures positions opened at the close – collapsed nearly 50% to $2bln pic.twitter.com/e7ovb6A7Xy

— skew (@skewdotcom) March 13, 2020
---
Dmitry Gurkovsky, a leading analyst at RoboForex:
"This is how investors react to general economic issues. The cryptocurrency market failed to become a safe haven for traders this time. The previous time the exchanges were overwhelmed by those who wanted to hide from the collapse, and prices for digital currencies dropped. This time, the flow of sellers was even more powerful. Exchanges stop trading when they see that the volume of bearish orders is growing exponentially, which is associated with people's emotional response and has little to do with the real situation. To decrease tension trading is being suspended.

BTC and a number of altcoins are trying to rebound, but it looks ineffective because the external background has not changed for the better and the problems have not gone away. Fiat assets remain under pressure. Asia traded in the red, for example. Brent oil prices are adjusting and aiming at $35, but this is another attempt to take into account the technical signal and nothing more. The Russian stock market is in positive territory, futures for the S&P 500 index in the "green" zone, which is not bad. "
---
Against the backdrop of the cryptocurrency market's collapse, several large exchanges, including Gemini, BitMEX, Huobi, and Bithumb, faced technical problems. Coinbase also reported monitoring problems with sending transactions in Ethereum and ERC-20 tokens.
Anton Kravchenko, CEO of Xena.Exchange:
"Firstly, Binance and BitMEX disconnected a minute before the first price drop, which is telling. Secondly, the cost of Bitcoin after halving at the end of the year will be about $10,000. In order to buy a large amount of cryptocurrency, you must first create a wave of sales, create a stream of those who funnel it to you. Previous to very large purchases in a narrow market, such a sharp drop most often occurs. At current levels, it's a great opportunity to buy Bitcoin."
---
The US Federal Reserve has decided to inject $1.5 trillion into the financial system to calm the panic in the markets caused by the spread of coronavirus.
Other central banks also contribute to the normalization of the situation in the financial markets. The Reserve Bank of Australia poured $8.8 billion into the banking system through short-term repos. Bank of Canada announced yesterday that on March 17 it would hold a repo with a maturity of 168 days in the amount of $4 billion and a maturity of 350 days in the amount of $3 billion.
---
In an attempt to reanimate the country's economy, which suffered from the coronavirus epidemic, the People's Bank of China will offer assistance to local financial institutions in the amount of $79 billion.
China's central bank pumps $79 billion into banks to aid its virus-weakened economy https://t.co/pQDaCmUbqs

— Bloomberg (@business) March 13, 2020
---
Social networks are actively discussing the cost of mining per 1 BTC. Opinions vary, but many argue that at the current price, miners should be turned off.
#Bitcoin miners now unprofitable.

Bitcoin Electricity Cost tested, this is the point where miners start to turn off rigs, b/c the electricity bill is more than 1BTC.

These conditions don't last long.

Expect we hold (mostly) above $5000, and then start to see Hash Rate drop. pic.twitter.com/AW7H3T3Q1D

— Charles Edwards (@caprioleio) March 13, 2020
Data on mining costs:
https://t.me/gfoundinshit/3561
---
An interesting comparison of the depth and speed of the stock market's fall during the crisis of 2001, 2008 and 2020.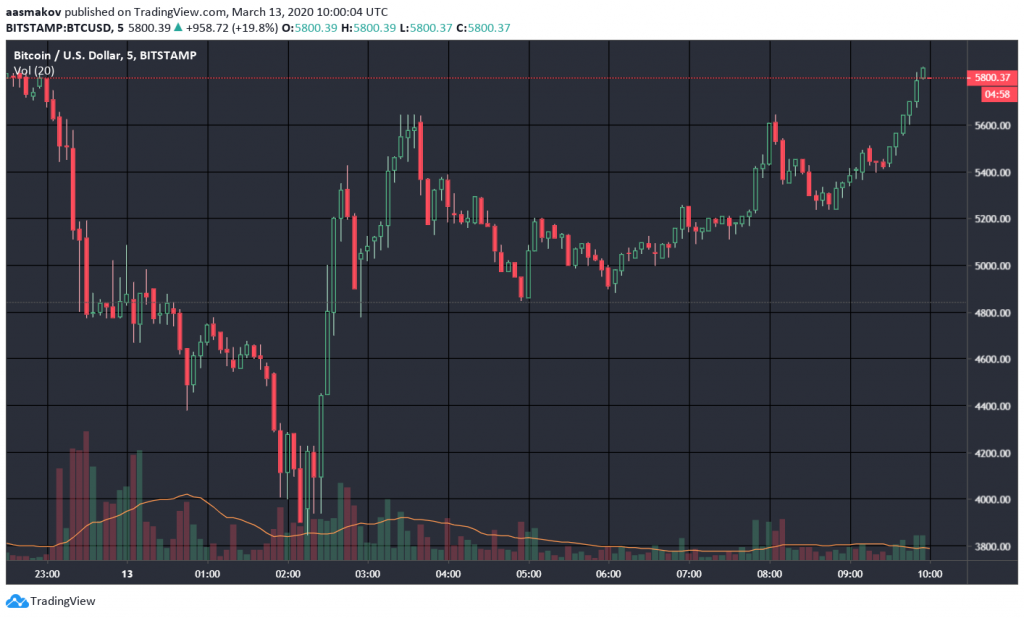 ---
Dean of the Faculty of Economics of the Synergy University Mikhail Yakunin on the situation in the marketsю
On world markets:
"The authorities of the USA, EU, Japan, and China flood the market with money, providing liquidity. Most likely, in March the Fed will lower the rate again, which should have a positive effect on the markets. In the short term, this may work, and a purely technical correction may occur, but on a farther horizon, the prospects remain uncertain. We need to wait for the positive news on the virus. Also, do not forget that in April we will have a wave of reports from companies that are likely to be below expectations, this could trigger a new round of decline."
On oil
"The failed OPEC+ deal provoked an aggressive struggle for the oil market. The UAE is already offering its oil at a discount of $5–9 per barrel. Other oil-producing countries make similar concessions. An opinion exists that Russia exited the deal to destroy the shale sector and which must repay a large number of loans. But we should not forget that these loans are issued in the United States only under the condition of price hedging, and at least until the end of 2021, shale oil producers should not be worried about prices. But if this was indeed the goal, then we will have to live with current prices for years."
About the ruble:
"The Central Bank really has enough currency to support the current exchange rate. Additionally, it is now being helped by Gazprom, which is selling $2 billion in loan money. In the short term, I think the rate will be in the corridor of 70-75 rubles per dollar. If you own any rubles, then go to the bank and change everything for dollars."
---
10:00 UTC, Bitcoin rose to $5,800.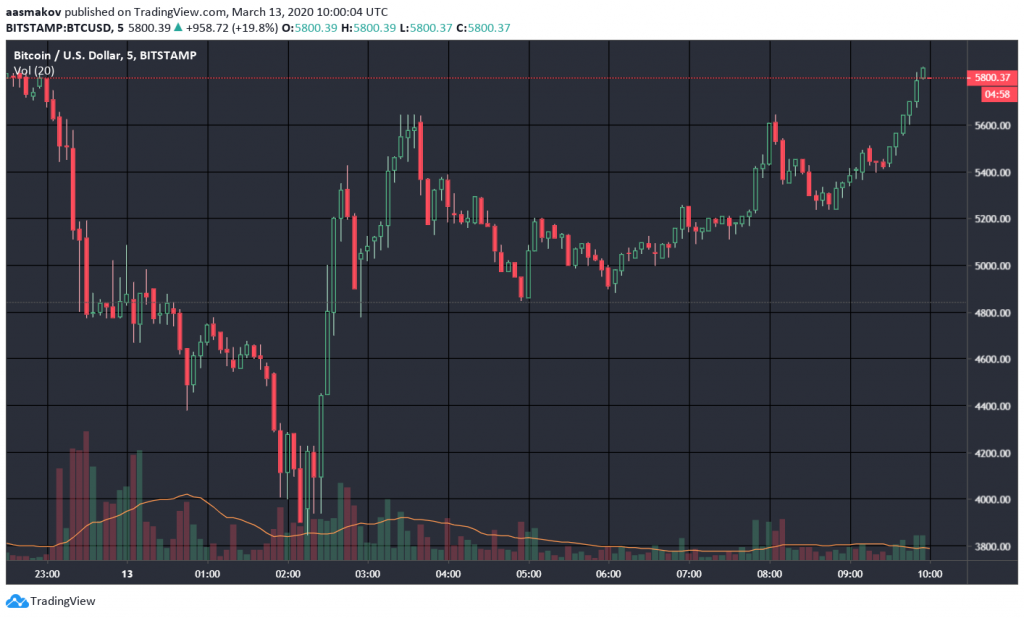 ---
The Block CEO Mike Dudas noted that on Thursday, March 12, the largest gold price drop since 2013 was recorded.
Gold saw its largest daily decline since 2013 yesterday

"10 charts that define how unprecedented this week has been"

via @_RJTodd https://t.co/cSMAIgdLcB pic.twitter.com/zvJokr1GWY

— Mike Dudas (@mdudas) March 13, 2020
---
Financial regulators in Spain and Italy announced that after yesterday's collapse, they introduced a ban on opening short positions on a number of stocks. The ban applies to today's session and affects the shares of 69 companies in Spain and 85 in Italy. In addition, the British Financial Supervisory Authority (FCA) introduced a ban on short positions on certain shares of Spanish and Italian companies.
Leading European indices meanwhile show a slight rise.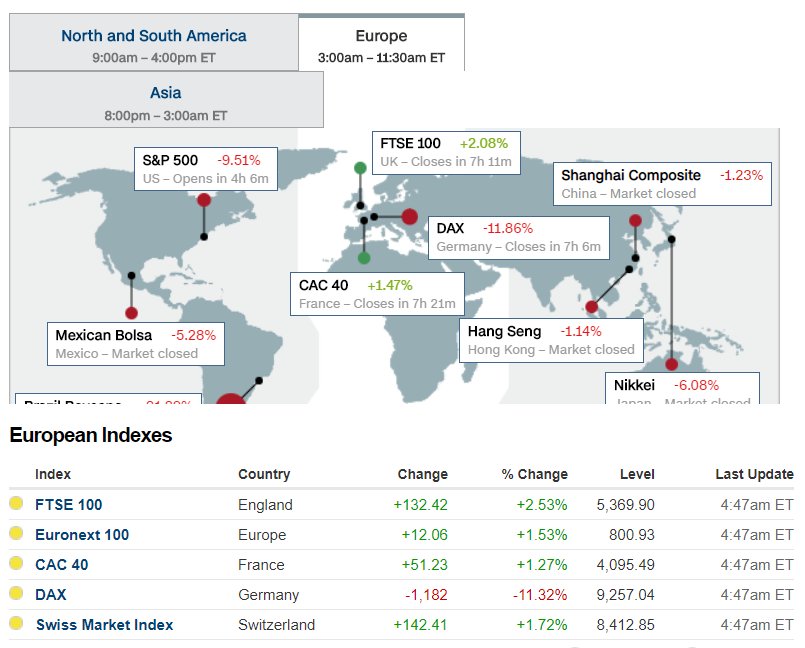 ---
The head of Grayscale Investments and Digital Currency Group, Barry Silbert, said that he was using the price collapse to buy more Bitcoins.
I'm buying. This is why bitcoin was invented

— Barry Silbert (@barrysilbert) March 12, 2020
---
Well-known trader and investor Tone Vays believes that the bottom was at $3,850 and rated the rebound as "very promising." Those who managed to buy below $4,000, he advised switching to HODL mode. To those who missed this opportunity, he said that he would buy now, but also puts orders at $4,500, $3,500 and the range of $2,750- $2,950.
For those that "Bought the Dip" under $4k lock it down as #HODL. For those that missed it, I am comfortable buying it here, but also setting $BTC Limit orders at $4,550, $3,550 & my ALL IN is at $2,750-2,950!
Can't see #Bitcoin going lower for those waiting on sub $2k

— Tone Vays – TheFinancialSummit.com (@ToneVays) March 13, 2020
---
By 08:00 UTC, the price of bitcoin rose to $5,500.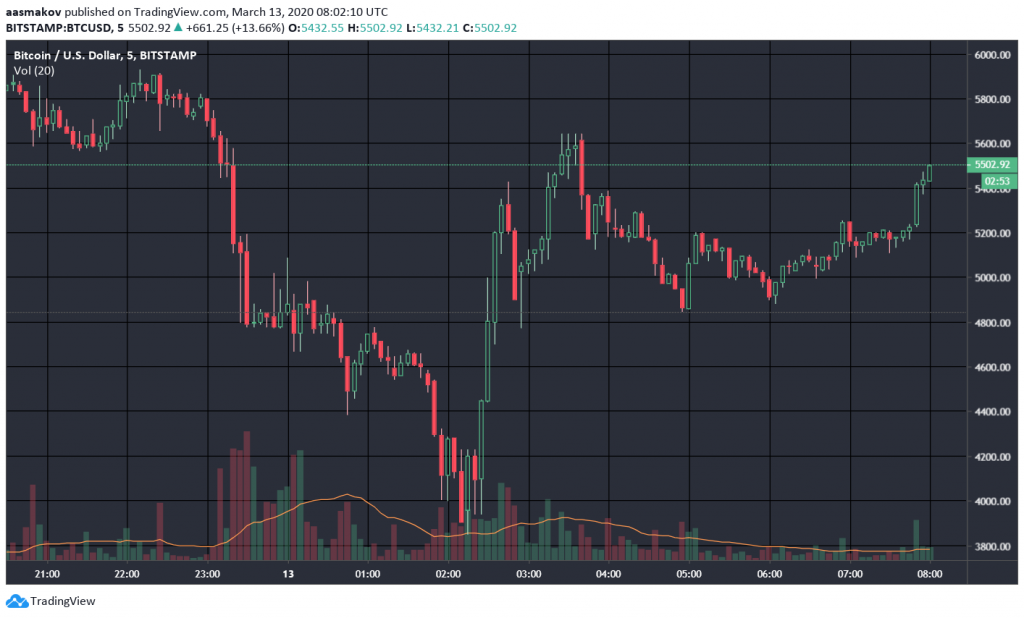 ---
Alexey Kirienko, Exante Managing Partner:
"Panic reigns the markets yesterday and today, players exit by stop-loss, and many are forced to close by margin call. There was a strong buyback at night, probably from a very large player or group of players.

The traditional financial market is still heading for a full-blown crisis. The fall of Bitcoin gives a great opportunity to buy an asset at a bargain price for the first time since the end of crypto winter.

A sharp rebound in the market clearly indicates that in the near future we can see compensation for at least part of the collapse of the last day."
---
Asian markets followed the American ones. All major indices are in the red. The Japanese Nikkei recorded the largest daily fall since 1990.
UPDATE | Calming the market requires that the pandemic be tamed and strong monetary policies unleashed.#coronavirushttps://t.co/1dNLT1j3XJ

— Nikkei Asian Review (@NAR) March 13, 2020
In Thailand, Indonesia and the Philippines trading is suspended.
---
Bitcoin hash rate has recovered to 124 EH/s.
Source: Blockchain.com
---
As of 7:16 UTC, the BitMEX insurance fund lost 1,627 BTC (4.6% of the total).
Meanwhile, BitMEX's insurance fund lost 1,627 BTC (so far), which is only 4.6% of its total. It's relatively unaffected. pic.twitter.com/E63izRzC0f

— Larry Cermak (@lawmaster) March 13, 2020
Deribit Options Exchange was less fortunate. From $3.1 million, only $227,000 remained.
Deribit's BTC insurance fund went from $3.1M two days ago to $227k. Nearly all wiped out in one day https://t.co/HwIdNHxyZO pic.twitter.com/soaXq7G8GK

— Larry Cermak (@lawmaster) March 13, 2020
---
According to Mike Novogratz, CEO of Galaxy Digital, Bitcoin has always been the projection of investor confidence, and at the moment they have no confidence in anything. When asked what will restore investor confidence, Kraken exchange's very own Bitcoin evangelist Pierre Rochard recited the key characteristics of the cryptocurrency such as resistance to seizure and censorship and trustworthy healthy monetary policy.
What brings confidence back to #bitcoin?

• seizure-resistant
• censorship-resistant
• digital, global, permissionless
• credible and sound monetary policy

— Pierre Rochard (@pierre_rochard) March 13, 2020
ShapeShift exchange co-founder Erik Voorhees claims Bitcoin and Ethereum are anti-fragile. In his opinion, Bitcoin remains a means of storing value, despite the collapse. Not everyone agrees, especially in the context of the Ethereum and DeFi ecosystem.
I am worried that DeFi cannot be sustainable if the whole ecosystem could get liquidated in less than 24 hours. That was a real risk today.

— Tushar Jain (@TusharJain_) March 13, 2020
---
5:11 UTC. In a matter of minutes, Bitcoin has jumped to $5,200. Ethereum on Coinbase is traded at $122.
Dan Tapiero, co-founder of 10T Holdings, has criticized those who say Bitcoin is not viable.
BITCOINERS: Hearing guys whine that btc is krap, not a hedge, not digital gold, it's going to zero etc..stfu. Btc is the only true free market in the world. Btc is the only asset that can go down 50% in one day and doesn't need govt intervention to stabilize. It will be fine. pic.twitter.com/I5tFpGg5BP

— Dan Tapiero (@DTAPCAP) March 13, 2020
---
As of 5:00 UTC, Bitcoin again fell below $5,000. Ethereum is close to $110.
The analyst company Coinmetrics has called this the worst day in Ethereum history.
Not to be outdone, it's Ethereum's worst ever day as a financial asset, by a significant margin (-43% with the runner up being -27%). pic.twitter.com/OS2Urcq2Jc

— nic carter (@nic__carter) March 13, 2020
---
The Dow Jones index during the U.S. session fell by 10%. The daily record.
BREAKING: Dow closes down 2,373 points (10%), largest point drop in history

— BNO Newsroom (@BNODesk) March 12, 2020
The worst three-month period in the history of the British financial market since 1720.
The fall in UK share prices Jan – today is bigger than any three month period since the South Sea bubble burst in 1720
? Bigger than 2008
? Bigger than Black Monday 1987
? Bigger than the Depression
? Bigger than Dunkirk
? Bigger than the Napoleonic wars pic.twitter.com/chFDJDMIF8

— Ed Conway (@EdConwaySky) March 12, 2020
Follow us on Twitter and Facebook and join our Telegram channel to know what's up with crypto and why it's important.
Found a typo? Highlight text and press CTRL+ENTER
Subscribe to our Newsletter

<